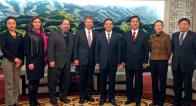 Dean Trevor Morrison met with Zhou Qiang, president of China's Supreme People's Court, on Tuesday, January 14, in Beijing.
The two discussed the significant judicial reforms that Zhou has been working on since he assumed his position in March 2013. Zhou, whose appointment was heralded by many legal scholars as a sign that the Chinese leadership intended to revive judicial reforms, has focused on three platforms as president of the Supreme People's Court: judicial transparency, disclosure of case results, and disclosure of information regarding the enforcement of court verdicts.
Zhou has accepted an invitation to visit NYU Law, and also agreed to send one judge to the Law School as a visiting scholar to the US-Asia Law Institute (US-ALI). The institute currently hosts 10 scholars a year who are legal experts, professors and practitioners.
Morrison was accompanied by Betsy Brown, assistant dean for development and alumni relations, Ira Belkin '82, executive director of the US-ALI, and Heather Han LLM '10, a US-ALI research scholar who also served as interpreter during the meeting.
Posted Sunday, January 19, 2014.