In his second trip to the United States since stepping down as president of Taiwan in May 2016, Ma Ying-jeou LLM '76 visited NYU Law and spoke with Professor of Law Jerome Cohen, holding forth on topics including the dispute over the Diaoyu Islands and the challenges of bipartisanship in Taiwan.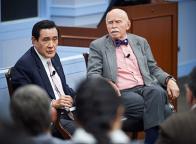 Calling his return to campus a "homecoming," Ma spoke fondly of his time at the Law School. While sharing favorite memories—including marrying his wife, Chow Mei-ching LLM '76—Ma singled out some of the classes he most enjoyed: Air Law with Andreas Lowenfeld, former Herbert and Rose Rubin Professor of International Law Emeritus, who passed away in 2014, as well as International Economic Transactions and International Trade Arbitration.
The legal training he received at NYU Law was important, said Ma, for dealing with crises throughout his political career serving as Taipei mayor, Taiwan's minister of justice, and, finally, president. As president, Ma signed the East China Sea Peace Initiative, an agreement with Japan to share the fishing resources of the disputed Diaoyu Islands (called the Senkaku Islands by Japan), a group of uninhabited islands in the East China Sea claimed by Japan, Taiwan, and China. A key article in the initiative notes that the agreement does not affect the sovereignty of the Diaoyu Islands. Cohen called the agreement, which bypassed China, "an astounding feat" for Taiwan.
Speaking more broadly about the many maritime disputes in the South China and East China Seas—among the most significant international law issues for nations in the Asia Pacific Rim—Ma observed that, although international disputes should be settled by peaceful means, nations in East Asia are less likely to pursue arbitration. "In East Asia, particularly in the case of mainland China, nations never resort to third-party adjudication. They want everything to be negotiated so that they can control the process." He also noted that when, in a rare instance of arbitration, the Philippines won a landmark case against mainland China in the Permanent Court of Arbitration over China's activities in the South China Sea, China refused to abide by the ruling. 
When asked if Taiwan could be susceptible to political headwinds similar to those that resulted in Brexit and the election of Donald Trump as president, Ma remarked, "Both Taiwan and the US are entering a period of uncertainty. We'll have to wait and see. But I have confidence in democracy."
Ma placed his optimism for the future in young people. Pointing to a divided Europe after World War II as an example, Ma praised a major exchange program that saw French students studying in Germany and vice versa. Taiwan already hosts a large number of exchange students from China, and Ma hoped that the connections forged would help pave the way for a peaceful future. "If young people from two sides of the Taiwan Straits can make friends [with each other] at early stages in their life," said Ma, "we can be assured that peace and prosperity across the straits will be sustainable."
Posted March 10, 2017