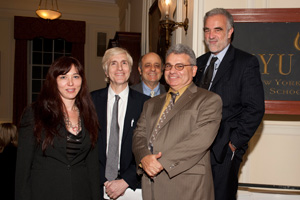 In an event billed as "A Conversation with the Prosecutor of the International Criminal Court," Luis Moreno-Ocampo made his second appearance at the Law School in a month on October 27. Moreno-Ocampo became the ICC's first prosecutor in June 2003. His office is currently pursuing cases of genocide, war crimes, and crimes against humanity growing out of a number of conflicts in Africa. Among those charged are Sudanese president Omar Al Bashir. Moreno-Ocampo is also investigating alleged crimes in several other countries. After brief opening remarks, he answered questions from the audience, and from four panelists:
José Alvarez, Herbert and Rose Rubin Professor of Law, who moderated the event. Alvarez is also a special assistant to Moreno-Ocampo.
Gabriella Blum, an assistant professor at Harvard Law School, who is currently a fellow at NYU Law's Tikvah Center for Law & Jewish Civilization.
David Tolbert, president of the International Center for Transnational Justice and former deputy chief prosecutor of the International Criminal Tribunal for the former Yugoslavia.
James Jacobs, Chief Justice Warren E. Burger Professor of Constitutional Law and the Courts
The questions touched on array of topics: Can any punishment be adequate for those who commit crimes like genocide? How will the court deal with matters growing out of the Israeli-Palestinian conflict if the Palestinian Authority is not a recognized state and Israel has not accepted the ICC's jurisdiction? Have there been circumstances in which the court has decided not to pursue a prosecution in deference to the "interests of justice" being served by other means? Moreno-Ocampo offered answers to each, but he also spoke more generally about the success the ICC has had forging the beginnings of a global criminal justice system. For thousands of years, he noted, war was a constant and accepted part of human existence; the idea of "permanent peace" is relatively new, emerging only in the last two hundred years. The international community's commitment to the next step—assuring that the atrocities of conflict end not just with peace, but also with justice—is newer still. It began, Moreno-Ocampo said, when the ICC began operating, just seven years ago. The event was co-sponsored by the Law School's Center for Human Rights and Global Justice, Hauser Global Law School Program and Institute for International Law and Justice.
Watch the full panel (1 hr 49 min):

Posted October 29, 2010