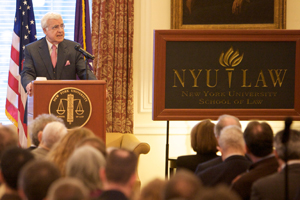 Arthur R. Miller delivered his inaugural University Professorship Lecture on March 19. In remarks titled "Are They Closing the Courthouse Doors?" Miller decried the steadily growing number of procedural "stop signs" facing claimants seeking judicial redress. "I've grown increasingly concerned about procedural changes that have resulted in the earlier and earlier disposition of litigation, often eviscerating a citizen's opportunity for a meaningful merit adjudication of his or her grievance," Miller said. And he laid principal blame for this trend squarely at the feet of the Supreme Court.
NYU President John Sexton, who introduced Miller, noted that Miller was recently inducted as a Commander of the Order of the British Empire. "Tonight," Sexton said, "we do something really significant – recognize him as a University Professor." NYU confers that title upon outstanding scholars whose work reflects exceptional breadth. Miller has written more than 40 books, and the focus of his scholarship has ranged from copyright to privacy to sports law. He is best known, of course, as the nation's preeminent authority on civil procedure, and is coauthor, with the late Charles Wright of the legendary treatise in that field, Federal Practice and Procedure. His reputation goes beyond his scholarship. "Generations of students … would point to him as the greatest teacher they every experienced," said Sexton, who took Miller's civil procedure class at Harvard Law School.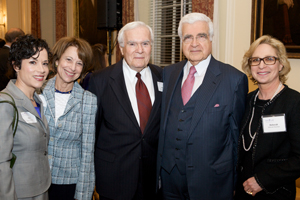 Miller pulled no punches in his own remarks. "Throughout the years I have believed in the purposes of the Federal Rules of Civil Procedure set out in Rule 1 by the people who wrote them about 75 years ago— 'the just, speedy, and inexpensive determination of every action and proceeding,'" he said. "I fear we have strayed from that mandate." He then went on to document the growing number of barriers the Supreme Court has erected to those pursuing cases of all types in federal court, from restrictions on discovery to limitations on forum choice to conversion of screening motions into motions that are dispositive on the merits.
The impact of these changes has done more than just frustrate individual litigants. The rise of public interest advocacy groups, "so lovingly nurtured by [NYU Law]," Miller noted, has led to private enforcement of numerous constitutional and statutory public policies, in areas such as antitrust, securities law, consumer protection, and civil rights. "In effect we now have an indispensable satellite regulatory system augmenting the work of official agencies," he said. But that, too, is now in jeopardy.
"Our aspirations." Miller said in closing, "should be those that our Founders embedded in the Constitution, that committed us to the rule of law, and that motivated engraving 'equal justice under law' on the front of our Supreme Court.  They should not be to obstruct citizen access to our justice system by constructing a procedural Maginot Line around our courthouses."
Miller, who is in his 50th year of teaching, will be honored at a symposium next month at the University of Oregon School of Law.
Watch the full video of the lecture (1 h 28 min):
Posted March 20, 2012