On September 25, Foreign Secretary of the United Kingdom David Miliband spoke to a standing-room-only audience at the NYU School of Law. In his talk, titled "What should be in the next U.S. president's inbox?" Miliband gave an overview of the wide-ranging challenges that will face the next presidential administration. NYU President John Sexton introduced the speech, which was followed by a discussion between Miliband and Norman Dorsen, the Frederick I. and Grace A. Stokes Professor of Law. Audience members were then invited to ask questions of the foreign secretary.
Miliband, a leader in Britain's Labour Party and one of the architects of its return to power in 1997, was emphatic about the importance of November's presidential election. "I think you can make a reasonable claim that this is the last chance for the transatlantic alliance—the alliance of, more or less, the United States and Europe—to set a global agenda … that commands the global stage," he said. He contended that by 2017, "the growth of the Indias, Chinas, Brazils, and South Africas of this world will mean that the ability of the transatlantic alliance to set a global agenda is much diminished." In order to take advantage of this unique historical moment, Miliband believes that the U.S. and E.U. must work together to focus on the issues of democracy building, global inequality and shared sovereignty through international organizations.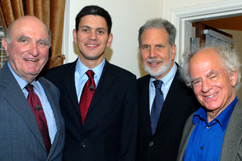 Dorsen asked a series of questions that pushed Miliband to more fully articulate his views on global problems such as climate change and the Middle East peace process, but the discussion was not all about policy. Dorsen worked with Professor Ralph Miliband, the foreign secretary's father, at the London School of Economics in the late 1960s. At a party held by a mutual friend, Dorsen met a three-year-old David Miliband. "When I looked at him more closely," Dorsen recalled, "I immediately said, 'He will go far.'"
Watch the archived video from this event.
Please note: you will need to have the latest version of the free RealPlayer plugin to watch the webcast.