New Jim Crow author Michelle Alexander gives keynote speech at CACL conference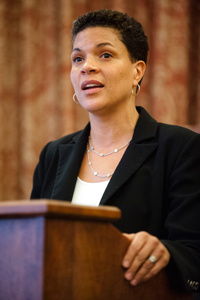 The shooting of unarmed teenager Trayvon Martin revealed the racism that is pervasive in the U.S., Michelle Alexander, author of The New Jim Crow: Mass Incarceration in the Age of Colorblindness, told an NYU Law audience on Tuesday, April 17. Alexander went on to draw a link between Martin, the cycle of incarceration, and earlier forms of racial control in the U.S.
Alexander delivered the keynote address at the New Frontiers on Race and Criminal Justice conference, a day-long event sponsored by the Law School's Center for the Administration of Criminal Law (CACL). Scholars, prosecutors and law enforcement officials came together to explore the issues of mass incarceration and racial bias in front of a capacity audience in Greenburg Lounge. (Scroll down for videos from the conference.)
By demonizing George Zimmerman, the man who shot Martin, we are in fact missing the bigger picture, Alexander said. The Ohio State law professor and former director of the ACLU for Northern California's Project for Racial Justice argued that the U.S. justice system had been infected with what she called "a Zimmerman-like mindset" for centuries—an endemic racism she linked to the war on drugs, the prison-building boom and the enduring view of black men as problems. "Zimmerman's mindset has become normal," said Alexander. "Normal, like separate water fountains."
Alexander's talk followed several panel discussions at which scholars and practitioners grappled with issues at the intersection of race, policing and prosecution. In the afternoon James Forman, Jr., a clinical professor at Yale Law School, moderated a discussion about race, sentencing and the problems of mass incarceration that featured a distinguished panel: Rachel Barkow, Segal Family Professor of Regulatory Law and Policy and faculty director of the CACL; Vanita Gupta '01, deputy legal director at the American Civil Liberties Union; Ketanji Brown Jackson, vice chair of the United States Sentencing Commission; and Glenn E. Martin, vice president of development and public affairs at the Fortune Society, a non-profit organization dedicated to supporting successful reentry from prison.
Panelists debated various strategies for reducing mass incarceration. Gupta and Barkow both viewed the current fiscal crisis as an opportunity for making political progress, as in many states it has simply grown too expensive to maintain such a large prison population. Barkow proposed producing racial impact statements in advance of any new criminal law legislation to show how people of color would be affected. Another option, which has been successfully adopted in Chicago and other cities, is social programs like Operation Ceasefire that connect at-risk youth with jobs, education and other assistance .
What will it take to end the cycle of incarceration and racial bias that Alexander sees as so pervasive in the criminal justice system? "Nothing short of a major social movement will do," she said.
Posted on April 23, 2012