NYU launched a new center, the Marron Institute on Cities and the Urban Environment, in a ceremony on February 13 at the Law School featuring remarks by Mayor Michael Bloomberg, as well as NYU President and Dean Emeritus John Sexton and Dean Richard Revesz, the new institute's director.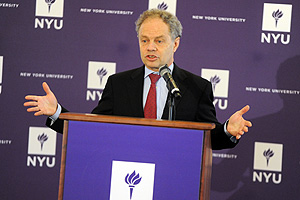 Donald B. Marron, founder and current chairman of Lightyear Capital, former chairman of Paine Webber, and a highly successful entrepreneur and philanthropist who provided a $40 million gift to fund the new institute, expressed great enthusiasm about its mission: "This is an entrepreneur's dream. This is a startup to all startups. It's the start of a teaching institution that's going to do more than teach. It's got a great management team led by John and by Ricky. It has an extraordinary faculty, and it has researching capabilities that allow you to leverage all this talent very quickly."
Pointing out that for the first time in history, more than half the world's population lives in cities, Bloomberg cited important challenges for growing urban centers, including public health, housing supply, the environment and pollution, municipal services, economic opportunities, and transportation. "All of these challenges are important to city dwellers," said Bloomberg, "but addressing them widely has worldwide implications in all parts of our country—urban and rural as well as suburban. We all breathe the same air. We all drink the same water. Seventy percent of the world's greenhouse gas emissions come from urban areas, so making cities more sustainable is crucial for life on this planet."
Revesz then expanded on the mayor's list of challenges in defining "urban environment," adding cities' roles as engines for social justice promoting equity and inclusion, as well as the part they play in improving design and governance. The Marron Institute's four principal goals, Revesz said, were to support interdisciplinary research by taking advantage of synergies across the University, to develop a curriculum around cities and the urban environment, to create a vibrant academic community, and to apply its policy solutions to real-world problems in cities across the globe.
While acknowledging that entities elsewhere have similar missions to that of the Marron Institute, Revesz emphasized that two things put NYU's new center in a league of its own: its intent to achieve "a very broad reach across disciplines in a major university" that encompasses social sciences, natural sciences, the humanities, and professional schools, and NYU's unique status as a "global network university" with a significant presence in a score of key cities around the world. "We aspire to leverage the global network university to do much more than universities typically do overseas," he said.
The Marron Institute's aims will be bolstered further, Sexton said, by three existing NYU institutions with much to contribute to the cause: the Center for Urban Science and Progress, the Institute for Public Knowledge, and the Urbanization Project. Apart from benefiting from the brainpower those centers will bring, he said, the Marron Institute's endeavors will encourage contributions from faculty University-wide: "The institute is now available as a tool to enhance the intellectual life of this university, the work of each one of you, and I hope, ultimately, our city and the world in the years going forward."
Posted on February 13, 2013