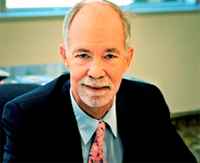 Adjunct Professor David Malone, president of the International Development Research Centre, has been appointed rector of the United Nations University in Tokyo by U.N. Secretary-General Ban Ki-moon, effective March 2013. He will head the institution, which was founded in 1973 as the academic and research arm of the U.N. both to grant degrees and to function as a think tank.
Malone, who teaches the Law and Practice of the U.N. Seminar, will be the UNU's sixth rector since its inception, working to create closer collaborations with other U.N. entities, other research institutes, governments, and private-sector actors internationally. He was previously Canada's U.N. ambassador; its envoy to India, Nepal, and Bhutan; and president of the International Peace Academy. Earlier this year, Malone co-authored Nepal in Transition: From People's War to Fragile Peace. He is also the author of Does the Elephant Dance? Contemporary Indian Foreign Policy and co-author, with Simon Chesterman and the late Thomas Franck, of The Law and Practice of the United Nations.
The UNU has 15 institutes and programs in 13 countries around the globe. Its primary goal is to contribute to global sustainable development through research, teaching, capacity-building, and advising.
Posted on November 16, 2012