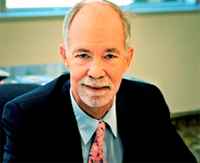 Members of the law school community gathered on October 20 to celebrate the launch of David Malone's Does the Elephant Dance? Contemporary Indian Foreign Policy. A longtime adjunct professor at NYU Law, Malone is also the head of the International Development Research Center, and was formerly the high commissioner of Canada in India. Speaking briefly at the event, which was hosted by the Hauser Global Law School Program and the Center on International Cooperation, Malone argued for the importance of understanding India's history, geography, and capability in order to understand its foreign policy.
"For most of us, India's history is a bit of a fog, because in part we don't know how to define India historically. Does it include what we think of today as Pakistan and Bangladesh? Does it include Sri Lanka? How far does it go?" Malone said. "The answer to that is that at times different conceptions of India prevailed, and a united India as we know it today historically is the exception to the rule rather than the rule."
Malone posited that India's recent period of growth, following its bankruptcy in the 1990s, has garnered international interest in India as a foreign power. "It's economic diplomacy that trumps everything else in India's diplomacy, much as Indian diplomats at the U.N. would probably like to think differently," he said.

In terms of geography, Malone explained that he chose not to focus on India's relationship with Pakistan in his book, instead concentrating on India's relationship with China, its biggest trading partner. Malone argued that there is one big question: "Will it remain simply a regional power, will it remain the principal power of South Asia, will it remain the principal competition of China in Asia, or will it become a global power?" Malone added, "And there is no answer yet to that question."
The most decisive factor of India's capability, according to Malone, is the Indian economy. Outside of India, it is a country that cannot economically be ignored. However, what Malone describes as India's "constant quest from autonomy" prevents India from aligning itself completely with any other foreign power, economically or otherwise. "When it suits India's interests, India will work with the United States very productively; when it doesn't suit India's interests, it won't," he said.
Does the Elephant Dance? has been on the bestseller list in India for five months—a rare feat for an academic book, as Dean Richard Revesz pointed out in his introduction of Malone. "It's very hard for an academic book to have that kind of following, and it's an enormous tribute to David," Revesz said. "I don't think anyone could have delved as deeply or intelligently into this topic as David, because his experience as a diplomat, as a scholar, and as a student of India for many years brought together many attributes."
Bruce Jones, director and senior fellow at NYU's Center on International Cooperation, praised Malone's work as a masterful piece of statecraft: "It is a very sophisticated and very sensitive treatment, not just of Indian foreign policy, but also of India."
Watch the full video of the event (1 h 18 min):
Posted October 31, 2011