On Thursday, February 28, the NYU Leadership Series in Law and Business held its inaugural event in Vanderbilt Hall. Jointly hosted by the Mitchell Jacobson Leadership Program in Law and Business and the Pollack Center for Law & Business, the program's organizers were thrilled to launch the series with a visit from Herbert Kelleher '56, the charismatic founder of Southwest Airlines.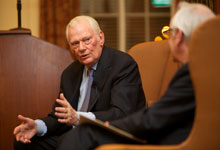 Dean Richard Revesz opened the event by calling Southwest Airlines "an extraordinary company in an industry that hasn't done so well." And he suggested that Kelleher's status as an iconic corporate leader derived from a simple if profound insight: that it is possible to achieve extraordinary financial success while still treating one's employees and customers well. At Southwest, he explained, the former did not come despite an emphasis the latter, but because of it.
The evening's interviewer, Gerald Rosenfeld, distinguished scholar in residence and senior lecturer, and co-director of the Jacobson Program, opened his remarks by adding that Kelleher's doctrine of treating others well did not necessarily extend to his competition. A long-time investment banker, Rosenfeld thanked Kelleher for indirectly providing him with work. "I have worked on three major airline bankruptcies," he explained, "all of which were ably aided into in bankruptcy by Herb and Southwest."
The most provocative insights, however, all came from Kelleher himself, whose hearty laugh and man-of-the-people demeanor belie an underlying competitive streak that have made Southwest Airlines a great value creator in an industry that has otherwise destroyed much of it.
While some of Southwest's success can be attributed to pure business decisions—the use of a point-to-point airline model versus traditional hub-and-spoke, and the cost-saving decision to use just one model of airplane instead of several—much of Kelleher's discussion served as a reminder that it really is about the little things in the end. His message: the most successful corporate leaders remain so by remembering what it is that made them successful in the first place.
Southwest, he explained, was founded with the understanding that the best businesses respect the worth of every person who works for them, not just as employees but also as people. And they succeeded by never losing sight of that premise. "There were those who predicted that our 'family feeling' would go away as we grew bigger," he said, "but that didn't happen—because taking care of people remained our primary focus." In 1973, Southwest instituted the first profit-sharing program in the industry. "It was easy to do when we had no profits," said Kelleher with a laugh. But it showed the company was willing to put its money behind its bold and brash words.
In distilling his insights on leadership, Kelleher quoted the great poet Robert Frost on the subject of the workplace: "Isn't it a shame that when we get up in the morning our minds work furiously—until we come to work?" The secret at Southwest, he insisted, was to make sure that didn't happen. And how did they do that? With another counterintuitive insight: that work and fun were not mutually exclusive. "Most people don't want to look like they're having fun at work for fear of getting fired," said Kelleher. "But at Southwest, we'll fire you if you aren't smiling and having fun."
Watch the full video of the event (53 min):
Posted March 6, 2013