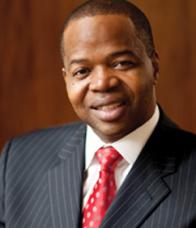 Kenneth Thompson '92, a partner at Thompson Wigdor LLP and a former federal prosecutor, defeated six-term incumbent Charles Hynes in the Democratic primary for Brooklyn District Attorney on September 10. With 99% of precincts reporting, Thompson had 55% of the vote, compared to 44% for Hynes. Although Hynes remains on the Republican and Conservative ballot for the November election, his spokesman has indicated that Hynes will not be running, according to the New York Times.** Thompson is the first candidate for Brooklyn District Attorney to defeat an incumbent since 1911.
Thompson, a founding partner of the law firm Thompson Wigdor LLP, represented Nafissatou Diallo, the hotel housekeeper who accused former International Monetary Fund Leader Dominque Strauss-Kahn of sexual assault. He has also worked with elected officials including Senator Charles Schumer and Congresswoman Yvette Clark to convince the U.S. Department of Justice to reopen the investigation into the 1955 murder of Emmett Till in Mississippi.
During his time in the United States Attorney's Office for the Eastern District of New York, Thompson became known for his skill as a trial lawyer, and particularly for his role in the investigation and successful prosecution of New York City police officers for the brutal beating and torture of Abner Louima. Prior to serving in the U.S. Attorney's Office, Thompson was an attorney in the U.S. Treasury Department, where he served as special assistant to former Treasury Department Undersecretary for Enforcement Ronald Noble, who is currently the secretary general of Interpol and a professor of law on leave at NYU Law.
Upon graduating from NYU Law, Thompson was a recipient of the Law School's Arthur T. Vanderbilt Medal for his outstanding contributions to the community. He has also received the Black, Latino Asian Pacific American Law Alumni Association's Distinguished Service Award.
Posted on September 12, 2013
**Update: As of October 3, 2013, Charles Hynes has decided to run on the Republican ticket in the general election for Brooklyn District Attorney, according to the New York Times.