Although he is well on his way to becoming a barrister, with a pupillage lined up in London next fall, Jonathan Silberstein-Loeb LLM '14  has not entirely abandoned his previous interest in becoming a historian, nor his passion for journalism.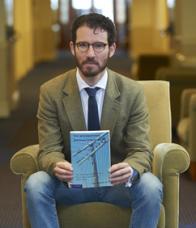 As a history major at Colby College in Waterville, Maine, Silberstein-Loeb, editor-in-chief of the college's weekly newspaper, wrote a prize-winning honors thesis on Max Ascoli, founder of the influential liberal newsmagazine The Reporter. He subsequently pursued an MPhil in modern European history, with his research concerning the growth of news organizations, at the University of Cambridge, where he also received a PhD in history. An appointment as a senior lecturer in history at the University of Oxford's Keble College followed, along with a research fellowship focused on the business of news at Oxford's Said Business School. Silberstein-Loeb's developing interest in law and business then led to an LLB at City University Law School in London and an LLM at NYU Law.
Improbable as it may seem, all of Silberstein-Loeb's academic enthusiasms have coalesced in his new book, The International Distribution of News: The Associated Press, Press Association, and Reuters, 1848–1947, published in February by Cambridge University Press.
"It's a history book in the sense that it looks at the past, but the analysis is always largely—and in some places exclusively—legal," he says, adding, "It's a book about property told through the lens of business history."
The seed for the book was planted during Silberstein-Loeb's undergraduate research, when he encountered allegations in The Reporter that the Associated Press was a monopoly. Making use of the AP's newly opened institutional archives, Silberstein-Loeb argues that the development of news agencies such as the Associated Press, Britain's Press Association, and Reuters stemmed from the need to exert proprietary control over news reports in the absence of any intellectual property rights that could be exerted over journalistic output.
The trick for the AP in particular, Silberstein-Loeb explains, was to balance the competing objectives of exclusivity and cooperation while avoiding accusations of monopoly and the resulting regulation. "The way in which it deals with these problems is by constantly negotiating these divergent incentives," he says.
In the end, Silberstein-Loeb concludes that newspapers' cooperative attempts were probably more helpful than harmful to the news industry, and that their contractual approach to journalistic exclusivity was an effective, if limited, alternative in the absence of intellectual property rights.
"I think it's a relevant argument for the news industry now," says Silberstein-Loeb. "A lot of discussion about the Internet and the problems associated with maintaining property online—music, publishing, news—has people moving away from property rights, copyright, things like that and suggesting that contract, licenses may be a better way in which to control these rights."
Posted April 9, 2014