At the Frank J. Guarini Government Lecture on January 25, Judge John Gleeson of the US District Court for the Eastern District of New York, an NYU Law adjunct professor, advocated for the wider adoption of alternatives to incarceration. To Gleeson's mind, with federal reentry drug courts so successful in reducing post-sentence addiction and recidivism, it's only logical to ask, "Why don't we have 'no-entry' drug courts?" Such programs give participants the opportunity to stay out of prison or receive a shorter sentence, and sometimes avoid a conviction entirely.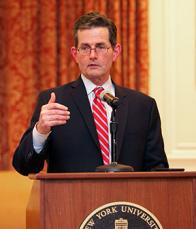 Last month, Gleeson announced he would be stepping down on March 9 after 21 years on the bench. During his tenure, he has been a leader in sentencing reform. His district was among the first to implement two innovative presentence programs: a drug court, the Pretrial Opportunity Program (POP), and a youthful offender court, Special Options Services (SOS), to identify nonviolent drug offenders and adolescents who would be better served by rehabilitation than incarceration.
POP, founded in 2012, provides drug treatment and social services; participants also review their progress with a judge on a monthly basis. SOS, established in 2000, supervises presentence defendants age 18 to 25. In 2013, it was modified to include judicial supervision, which Gleeson emphasized as key to increased success.
Gleeson spoke warmly about those who had finished one of the programs. "There's nothing like individual cases to inspire you," he said. Emily, for example, had been addicted to drugs since she was a child. After she was arrested for drug trafficking, POP enabled her to get treatment, a GED, a driver's license, and a job. Gleeson proudly recounted that, at the time of his lecture, Emily had been drug-free for 53 months. She had also avoided conviction, which may prove just as crucial in the long run.
"There's no overstating how disabling it is for someone to go through life with a federal felony conviction," Gleeson said. By completing POP or SOS, defendants are better positioned to have positive outcomes.
So far, 22 federal districts have either established "diversion programs" or are moving in that direction. As these nascent programs grow, increased data collection will reveal their long-term efficacy. Gleeson thinks it is only a matter of time: "This has worked emphatically—indisputably—in the state systems." He urged the US Sentencing Commission to revise its guidelines to explicitly allow judges to pursue these alternatives to sentencing.
For Gleeson, the problem of mass incarceration demands a multifaceted solution. "[These programs] put a human face on a sentencing regime that has been so desperately in need of one for three decades now," he said. "That's a good thing."
Posted February 5, 2016