John Attanasio '79, Judge William Hawley Atwell Chair of Constitutional Law at Southern Methodist University's Dedman School of Law, will be a Distinguished Visiting Fellow at NYU Law in Fall 2013.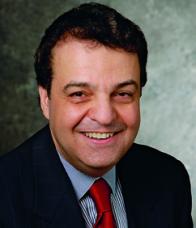 The former dean of SMU's law school as well as the Saint Louis University School of Law, Attanasio specializes in comparative law, constitutional law, federalism, human genetic engineering, and legal education. He has taught at the University of Pittsburgh School of Law and Notre Dame Law School, where he also served as the John M. Regan Jr. Director for the Joan B. Kroc Institute for International Peace Studies. Attanasio is co-author of a constitutional law casebook and a constitutional law treatise, and has written journal articles on topics ranging from aggregate autonomy to sexual harassment. He is co-editor-in-chief of the International Lawyer, and co-editor of British Institute books on unilateralism versus multilateralism and the 1998 global financial crisis.
As principal investigator for the Rule of Law Forum, organized in partnership with the U.S. State Department, Attanasio organized 12 high-ranking delegations from Afghanistan, Bahrain, Brunei, China, Egypt, Indonesia, Kyrgyzstan, Oman, Pakistan, and Saudi Arabia for a week of meetings at SMU with U.S. leaders, including Supreme Court justices and senators. Attanasio also co-organized seven summits between U.S. Supreme Court justices and justices of overseas high courts, such as the European Court of Justice and the constitutional courts of Russia, Germany, and Italy. Three of those summits were co-organized with John Sexton, then the dean of NYU Law. Attanasio organized the Russian Constitutional Court's first delegation to the U.S. and first meeting with U.S. Supreme Court justices in 1992.
From 2000 to 2007, Attanasio chaired the American Bar Association's Out-of-the-Box Committee on the Future of American Legal Education. He has lectured in 28 countries and advised many governmental institutions on issues related to law reform. Attanasio received NYU Law's Distinguished Alumni Award in Education in 1994. As a 1990 Fulbright Award recipient, he delivered lectures on American constitutional law in Moscow and throughout the former Soviet Union. Attanasio has an LL.M. from Yale Law School and a Diploma in Law from the University of Oxford.
Posted on September 11, 2013