The late Jerome Bruner, a revolutionary thinker in psychology and numerous other fields who passed away on June 5 at age 100, was honored by family members and colleagues during a memorial celebration at the Law School on September 9.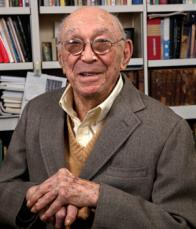 The event took place in the same room where, five years before, NYU's Steinhardt School of Culture, Education, and Human Development had feted Bruner on the 50th anniversary of his seminal work The Process of Education. The book, which ultimately sold upward of 400,000 copies in 20 languages, took the then-controversial stance that any subject could be taught to any child at any age.
Bruner played a pivotal role in bringing other disciplines to the study of education at a time when psychology did not figure meaningfully in that field. His iconoclastic interdisciplinary thinking convinced Peggy Cooper Davis, now John S. R. Shad Professor of Lawyering and Ethics, and Anthony Amsterdam, now University Professor Emeritus, that Bruner could help expand the existing legal pedagogy. Bruner, a University Professor who taught Lawyering Theory seminars, the Colloquium on Culture and the Law, and other classes, has been described as one of the most influential psychologists of the 20th century. Among other techniques involving cognitive theory, literature, and cultural anthropology, he used Aeschylus's Oresteia to illuminate for law students issues of justice.
Introduced by Dean Trevor Morrison, who referred to Bruner as "the Pied Piper of interdisciplinary humanities," the memorial event was conducted by Howard Gardner, Hobbs Professor of Cognition and Education at the Harvard Graduate School of Education and a mentee of Bruner. Family members including son Whitley Bruner; cousin Howard Schaffer; and grandchildren Mark, Alexandra, and Caitlin Bruner offered reminiscences of the man everyone, even the younger generations, called Jerry.
Colleagues from near and far expounded on the indelible mark Bruner had left on his multiple fields of interest. Among those colleagues was Carla Rinaldi, former president of Reggio Children, a nonprofit foundation in Reggio Emilia, Italy, dedicated to promoting that city's globally influential approach to preschool and primary education. Bruner, who first visited Reggio Emilia's schools in 1994 and returned annually through 2012, eventually was made an honorary citizen.
The final word at the celebration was reserved for Eleanor Fox, Walter J. Derenberg Professor of Trade Regulation, who was Bruner's partner for the last decade of his life.
"Jerry talked with equal respect and excitement to children as he did to adults," said Fox. "His ideas on early education were ideas about how we learn from and contribute to each other, how children learn from and contribute to each other. Learning is horizontal; education is built on curiosity and inquiry. This is what Reggio Children believes and does. That is why Jerry loved and honored Reggio, and Reggio loved and honored Jerry. Jerry had scores of honorary degrees from most of the finest universities in the world—he lost track of how many—but the honor that he cherished most was the honorary citizenship from Reggio Emilia."
Posted September 19, 2016