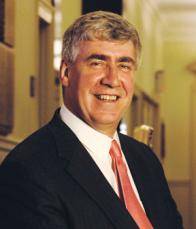 University Professor Jeremy Waldron, a renowned legal philosopher who has delivered virtually all of the most prestigious philosophy lectures across the globe, has been elected to the American Philosophical Society, an elite scholarly organization founded by Benjamin Franklin in 1743. With more than 1,000 current members, the ranks of the oldest learned society in the US have included George Washington, John Adams, Thomas Jefferson, Charles Darwin, and Albert Einstein. Joining the APS this year alongside Waldron are such notables as former New York City mayor Michael Bloomberg, well-known French economist Thomas Piketty, and dancer and choreographer Twyla Tharp.
Waldron, who teaches legal and political philosophy, came to NYU Law from Columbia Law School. Formerly a professor at Princeton University and the University of California, Berkeley, School of Law, Waldron writes frequently about jurisprudence and political theory, focusing on topics as wide-ranging as judicial review, property, torture, security, and homelessness. He recently delivered the six-part Gifford Lectures, a longstanding showcase for the preeminent thinkers in the field of natural theology, on the subject of human equality's basis. Waldron's other major lectures include the Tanner Lectures on Human Values, the Storrs Lectures, the Oliver Wendell Holmes Lectures, and the Carlyle Lectures. Those lectures, in turn, have been transformed into a series of published books.
The society's current ranks include Professor of Philosophy and Law Anthony Appiah, University Professor Jerome Bruner, and Professor of Philosophy and Law Emeritus Thomas Nagel as well as Judith Kaye '62, retired chief judge of the State of New York, and Judith Resnik '75, Arthur Liman Professor of Law at Yale Law School.
Posted April 28, 2015