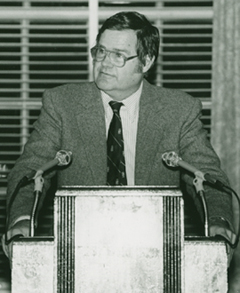 John D. Johnston Jr., Professor of Law Emeritus, passed away on December 18 after a battle against cancer. Johnston was a devoted member of the NYU Law faculty from 1969 until his retirement in 1990, teaching courses in property law, trusts and estates, and land use regulation. He received his LL.B. from Duke University School of Law, where he was a member of the editorial board of the Duke Bar Journal. After several years in private practice with J.P. Morgan & Company in New York and Wright & Shuford in his hometown of Asheville, North Carolina, he began his career as a law professor in 1962 at Duke, where he taught until he joined NYU Law.
The students of NYU Law were privileged to learn from such a brilliant and passionate scholar. Not only was Johnston the author of a leading treatise on land use and numerous articles on this subject, he also wrote extensively on the history of discrimination against women. Several articles were published in the New York University Law Review in the 1970s including a piece he co-authored with Max E. Greenberg Professor of Contract Law Emeritus Charles L. Knapp that focused on sexism in judicial opinions. Johnston challenged his fellow professors to address discrimination as part of the curriculum and encouraged his students to be aware of these significant issues as they made their way in their careers.
A beloved teacher and mentor, Johnston will long be remembered for his warmth, wit and scholarly contributions to the legal community.
Donations in Johnston's honor may be made to MANNA FoodBank, 627 Swannanoa River Road, Asheville, NC 28805.