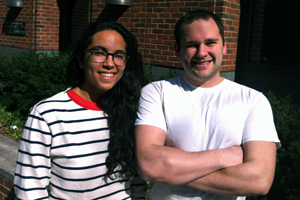 On March 28 the Supreme Court ruled 6-3 that lawful permanent residents with convictions for minor crimes committed before 1996 can travel outside the U.S. and re-enter without jeopardizing their immigration status. Immigrant Rights Clinic (IRC) students Natasha Rivera-Silber '13 and Jordan Wells '13 were especially excited about the ruling, because the justices cited an amicus brief they prepared in the case, Vartelas v. Holder.
In 2003 Panagis Vartelas, a Queens auto-body shop owner and lawful permanent resident, had traveled to Greece to visit his elderly parents but, upon returning to the U.S., was nabbed for deportation because of an old white-collar conviction. Vartelas had committed the crime in 1994, but at the time it was not one that could cause him to be deported or prevent him from traveling abroad. But a 1996 law required permanent residents traveling abroad to be treated as new immigrants upon their return. For Vartelas, this meant his conviction had suddenly become grounds for deportation. Professor Nancy Morawetz, co-faculty director of the IRC, explains that the case boiled down to one question: Does the 1996 law operate retroactively?

The case against Vartelas appeared to make little sense to Supreme Court Chief Justice John Roberts. In oral arguments in January, he asked, "What is the policy underlying the rule that doesn't allow somebody who has a lawful status here to go to his grandmother's funeral and come back?" The justice was referring to the brief drafted by Rivera-Silber and Wells for a group of immigration rights advocacy groups petitioning on behalf of Vartelas. In that brief, Rivera-Silber and Wells laid out the intricacies of the 1996 law, explained what it meant in practice, and illustrated their points with a series of stories about permanent residents who became inadmissible to the U.S. after traveling abroad to see family or even for occasions like funerals. The duo worked with lawyers around the country to find examples that illustrated the law's harsh consequences, and they vetted the structure of their argument with fellow IRC students and immigration law experts. "Natasha and Jordan didn't just participate in this brief," says Morawetz. "They researched it, developed it, and thought through the strategic questions about how to approach the brief."
Immigrant rights advocates had not expected the Supreme Court to take on the Vartelas case. But when the court granted certiorari last September, Morawetz and her IRC students sprang into action to draft an amicus filing.  For Rivera-Silber, knowing that she gave voice to immigrants and their experiences was particularly gratifying. "By telling the stories of real people, I think we were able to nudge the court toward a more sensible interpretation of the statute, and achieve a far more just result," she says. "We're excited about the decision's implications for the cases of lawful permanent residents who never should have been in removal proceedings in the first place," says Wells. "We only wish the issue had been resolved sooner, so that their wrongful treatment could have been avoided."
Posted March 30, 2012