In her inaugural lecture for the Herbert M. and Svetlana Wachtell Professorship of Constitutional Law and Civil Liberties on February 3, Helen Hershkoff examined the complex and sometimes uneasy relationship between state common law and state constitutional law.
At the beginning of "The Private Life of Public Rights: State Constitutions and the Common Law," Hershkoff emphasized that state constitutions differ sharply from the federal Constitution—and from one another. The requirement of state action before a constitution can be enforced—the typical interpretation of the federal Constitution—does not appear in all state constitutions. Thus, she explained, state constitutional rights sometimes cover the activity of private actors.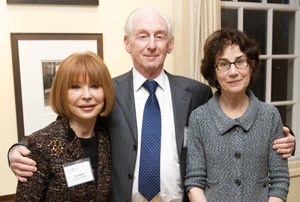 Hershkoff, a co-director of the Arthur Garfield Hays Civil Liberties Program, used as an example New Jersey Coalition Against War in the Middle East v. JMB. In that case, the New Jersey Supreme Court ruled that an anti-war coalition had a state constitutional right to distribute leaflets at a privately owned shopping mall. Part of the court's reasoning was that retail centers function as public squares. New Jersey is one of a few states in which an individual can enforce a state constitutional right directly against another private party.
"Whether a constitutional right to free speech ought to run against a private land owner raises a lot of thorny issues," Hershkoff said. "A commercial shopping center is just that: a place where you are expected to shop until you drop. But shopping malls also function as the new downtown: a place where ordinary people gather and talk."
Even in states whose constitutions contain a state-action doctrine for constitutional enforcement, Hershkoff argued, courts can—and do—consider state common law "as a way to enforce state constitutional norms.... The state judicial practice of using the common law as a site for state constitutional enforcement interrogates the conventional distinction between the public and the private, and it raises questions about the appropriate relation between private law; rules of contract, tort, and property; and public values."
She cited a case in which the Oregon Supreme Court weighed the plaintiffs' wish to solicit signatures for an initiative and referendum process against the property rights of a private shopping mall. The judges considered citizens' constitutional right to gather signatures in its interpretation of private parties' common-law relationship, blending two legal areas often considered wholly separate.
But Hershkoff asserted the artificiality of such a separation: "Private conduct is not hermetically sealed from what happens in the public sphere. Rather, in some settings, private conduct can burden public life. Private conduct can spill over into public life and interferes with our collective well-being."
While applying common law in concert with state constitutional norms has potential pitfalls, Hershkoff said, it also serves a vital purpose in a world where legal lines are increasingly blurred: "State courts may need to cross the boundary between the public and the private. They may need to protect the private life of public rights, and to consider carefully the relation of common law to human dignity."
Hershkoff's new chaired professorship is supported by Herbert Wachtell '54, a founding and senior partner of the New York firm Wachtell, Lipton, Rosen & Katz, and by Wachtell's wife, Svetlana, former head of the Human Rights of Scientists Program at the New York Academy of Sciences.
Posted on February 7, 2011