Susan Herman '74, Centennial Professor of Law at Brooklyn Law School and president of the American Civil Liberties Union, has won the 2012 IIT Chicago-Kent College of Law/Roy C. Palmer Civil Liberties Prize for her book Taking Liberties: The War on Terror and the Erosion of American Democracy. The $10,000 award honors a work of scholarship that illuminates the tension between civil liberties and national security in contemporary U.S. society. Herman will discuss her work in April at IIT Chicago-Kent.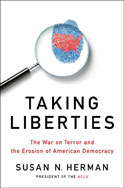 In Taking Liberties, Herman focuses on the human and social costs of America's "war on terror," arguing that the government's counterterrorism tactics may not be keeping citizens safe while at the same time impinging on civil liberties. At Brooklyn Law School, Herman teaches about terrorism and civil liberties as well as law and literature, constitutional law, and criminal procedure. She wrote and co-edited Terrorism, Government, and Law: National Authority and Local Autonomy in the War on Terror (2008) and The Right to a Speedy and Public Trial (2006).
Prior to her election as president of the ACLU in 2008, Herman was the organization's general counsel and also served on its executive committee and board of directors. She has also been involved in Supreme Court litigation and the drafting of amicus briefs on the ACLU's behalf. Before becoming a professor, Herman was associate director of Prisoners' Legal Services of New York.
Posted on January 18, 2013