February 1 and 2, 2008
Eight leading scholars from around the world revisit a 50-year-old debate between H.L.A. Hart and Lon Fuller.
By Adam Liptak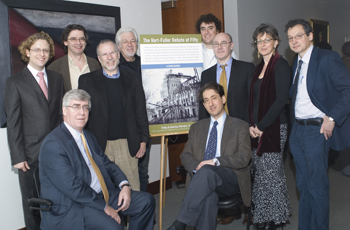 The scholars of the Hart-Fuller Debate seated, from left: Jeremy Waldron and Benjamin Zipursky; standing, from left: Dimitri Portnoi, senior articles editor of the NYU Law Review, Liam Murphy, Fred Schauer, Jules Coleman,  Ben Kingsley, editor-in-chief of the NYU Law Review, Leslie Green, Nicola Lacey, David Dyzenhaus.

On April 30, 1957, the English legal philosopher H.L.A. Hart gave the Oliver Wendell Holmes lecture at Harvard Law School.  His topic, he later wrote, "was, and was intended to be, provocative."
Hart called his lecture "Positivism and the Separation of Law and Morals," and his central point was that there is no necessary connection between law and morality. Lon Fuller, a law professor at Harvard, found that assertion infuriating.  He paced "back and forth at the back of the lecture hall like a hungry lion," a colleague recalled, and he left during the question-and-answer session afterward, unable to bear any more.
When the Harvard Law Review announced plans to publish Hart's lecture in February 1958, Fuller demanded a reply, one insisting that law is not a neutral concept but one necessarily embodying an inner morality.  What the Nazi courts applied, for instance, Fuller said, was not entitled to be called law. "The two articles quickly became, and still remain, the standard scholarly reference point and teaching resource for the opposition between legal positivism and natural law theory," Nicola Lacey wrote in her 2004 biography of Hart.  The Hart-Fuller debate, as it came to be known, continues to resonate and deepen.
Almost exactly fifty years later, on a rainy Friday in February, eight leading scholars from around the world gathered in the colloquium room on the ninth floor of Furman Hall to revisit the debate, which had taken place in the shadow of the Second World War and the Nuremberg war crimes trials.  There were newer shadows in the room now, cast by Guantanamo Bay and questions about the rule of law in the age of terror.
The conference was organized by Jeremy Waldron, University Professor at New York University School of Law, and Benjamin Zipursky, James Quinn Professor of Law at Fordham Law School. "The basic idea," Waldron later said, "was that these issues really did set an agenda for legal philosophy over the last 50 years."
The conference addressed the substance of the debate, of course, in a series of papers of extraordinary depth and sophistication.  But they also repeated aspects of the mood and tempo of the original confrontation, building from cool analysis to a crescendo a insistent feeling in Waldron's final remarks. On Friday, the conference heard from Leslie Green, professor of philosophy of law at Oxford Universtity; Jules L. Coleman, Wesley Newcomb Hohfeld Professor of Jurisprudence and professor of philisophy at Yale Law School; Liam Murphy, professor of philosophy and professor of law at New York University; Frederick Schauer, Frank Stanton Professor of the First Amendment at the Kennedy School at Harvard University; and Zipursky. They focused, for the most part, as Coleman put it, on "the philosophically interesting relationships between law and morality."
On Saturday morning, on the second day of the conference, David Dyzenhaus, professor of law and philosophy at the University of Toronto, took a fresh look at "the case of the grudge informer," one that had divided Hart and Fuller.  It involved a woman who was having an affair and was eager to be rid of her husband.  She accomplished that by denouncing him for insulting Hitler in 1944.  The husband was sentenced to death..
After the war in 1949, the woman was prosecuted for illegally depriving her husband of his liberty.  Her defense was that her conduct had been lawful at the time – and, indeed, the law did forbid comments like her husband's.  A German appeals court nonetheless found her guilty. That decision, Hart said, was improper.  He said the woman had committed no crime.  Fuller, by contrast, said there are laws so evil they cannot be valid.
In his paper for the conference, Dyzenhaus deftly pointed out that Hart's account of the case was misleading, and in telling ways.  (Legal philosophers are notoriously poor students of actual law.  "Few of us know very many cases," Waldron said later on Saturday, in a different context.)
The German appeals court's ruling, which Dyzenhaus provided to the conference in a new translation, turned largely on the fact that the woman was under no duty to speak, violated her husband's privacy and did so for base motives.  It was possible, then, to justify its ruling through conventional legal reasoning to reach its result.  The appellate ruling, then, while perhaps not entirely convincing, was not an example of a misguided application of natural law.
Nicola Lacey, Hart's biographer and professor of criminal law and legal theory at the London School of Economics, spoke next, and she opened with a disclosure.
"Amid an audience that must include baby boomers and children of the '60s," Lacey said, " I think I may be the only Hart-Fuller baby.  I was born in February 1958."  She went on to discuss the importance of the history that colored the original debate.
Waldron, in his comments on Lacey's paper, seconded that point, discussing the "historical anxiety that pervades the rule of law."
"An interesting feature of the concept of law," Waldron continued, "is that it involves all the time looking over your shoulder." He added:  "Why is it that people feel when they have political power in their hands, and they have ends and purposes that they think are noble and good, why nevertheless do they think that's not enough to justify the use of coercion?  You have to be looking over your shoulder for a statute or looking over your shoulder for how some past doctrine would justify what you're proposing to do.  What would be the point of that?"
Waldron's own remarks were in part a rousing elaboration on that question and in part an attack on Hart that would have pleased Fuller. In places, indeed, as Waldron admitted, he allowed himself  "to get mean and angry."
He pointed out contradictions and inconsistencies in Hart's writings, noting that "Hart himself toyed with many of the positions that Fuller held."
"These are hard things to say about Hart, the godfather – the grandfather – of modern jurisprudence," Waldron went on. But he added:  "I weep when I think of the number of good political and jurisprudential instincts that have been stifled in classes taught by positivist legal philosophers who are following Hart's example."
The conference was sponsored by the Law School and the New York University Law Review, which will publish a special symposium issue commemorating the anniversary and celebrating the conference.