At the annual Weinfeld Gala on September 20, The Honorable Frank J. Guarini, Jr. '50 (LL.M. '55), Order of the Coif '09, was named the recipient of this year's Weinfeld Award. Established in memory of honored alumnus Edward Weinfeld (LL.B. '21; LL.M. '24),who was  president of the Law School's board from 1973-1988, the Judge Edward Weinfeld Award recognizes the professional distinction of alumni who graduated from the Law School 50 years ago or more.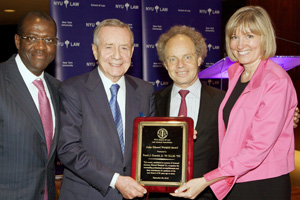 Guarini has had an illustrious career in public service, representing Hudson County in the New Jersey Senate for two terms, and serving in the U.S. House of Representatives for seven terms. During his time in Congress, Guarini was selected as a delegate to the North Atlantic Treaty Organization (NATO) Convention in London. President Bill Clinton later nominated him, with the consent of the U.S. Senate, to serve as U.S. Representative to the General Assembly of the United Nations.
Since retiring from Congress, Guarini has continued his extensive involvement in civic affairs, founding institutes and centers, and serving on the boards of charitable, educational, and cultural organizations. At NYU Law, several programs are named in his honor:  The Frank J. Guarini Center for Environmental and Land Use Law promotes legal research and policy problem-solving through collaborative work; the Frank J. Guarini Leaders in Government Service Institute provides structured support for students interested in leadership roles in all levels of government as well as at think tanks and policy organizations; the Frank J. Guarini Government Summer Program in the NYU Public Interest Law Center fosters students interests in careers with the federal government by connection them with NYU alumni. In January 2012, New York State Assemblyman and Congressional Candidate Hakeem Jeffries '97 gave the second annual Guarini Lecture at NYU Law.
In his introduction of the Weinfeld Award, Dean Richard Revesz praised Guarini's dedication to the Law School and his commitment to promoting legal education. "As most of you know, Frank has—for over 50 years—been a leader in our Law School community and, thanks to his incredible vision and generosity, worked tirelessly to further enhance our reputation as an innovative global leader in legal scholarship, Revesz said. "Frank's strong moral compass and commitment has guided and defined his rich and varied career—in the military, law, politics, real estate development and philanthropy. His passion for education, the environment, his home state, and his constituents have all been wonderfully intertwined. We are deeply appreciative of his decades of commitment to ensuring the ongoing success of this institution and it personally gives me great pleasure to honor him here tonight."
Posted September 28, 2012