February 5, 2009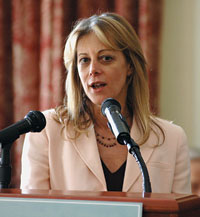 Karen Greenberg, executive director of the Law School's Center on Law and Security, appeared on The Daily Show with Jon Stewart to discuss her new book, The Least Worst Place: Guantanamo's First 100 Days.
In a lively interview with Stewart, Greenberg talked about how the prison was built in less than four days in late 2001 and that the military team initially deployed there did not even know they were going to Cuba until they arrived.
"They were told 'you don't have to follow the Geneva Conventions, but it would be good if you could be with the spirit of them,'" she said. "They look around and say, 'what does that mean, we're used to rules?'"
She said the military team there decided by themselves that they would follow the law and would treat the prisoners as human beings.
Stewart asked when the situation turned from being "Geneva Convention-ish" to "Dante's Inferno-ish."
Greenberg replied that around February 2002, the government sent in a higher-ranked interrogation military unit and that there were never any standards for detention that were codified.
Stewart noted that Former Vice President Dick Cheney repeatedly commented that those held at Guantanamo were "the worst of the worst." Stewart asked how we could know that if the detainees were never tried.
"We know that in December 2006 we moved 14 high-value detainees there, including Khalid Sheikh Mohammed, so now we can say the 'worst of the worst' as we define it," Greenberg said. "In terms of the rest, the 243 who are still there or the 800 who were there, we don't know. We had very little information, almost no material that came with them, we have files scattered here and there, and we don't know."
Stewart jokingly asked Greenberg why she doesn't want America to be safe.
"I want America to be safe and what will make it safe is our doing our homework, which is getting the intelligence ahead of time, knowing who we captured, knowing who we let go, and that will make us a safe country."
Stewart noted with astonishment Karl Rove's disapproval of the decision to close Guantanamo and Rove's observation that now it will have to be determined if the detainees need lawyers and trials when the previous administration had seven years to figure that out.
"The disrespect for the the rule of law and the constructive role it plays both domestically and internationally is appalling," Greenberg said. "To think that it makes us less safe to have trials is something that President Obama is going to have to correct."