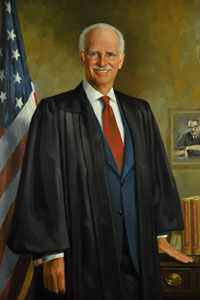 On September 28, a portrait of Judge Douglas Ginsburg was presented at the U.S. Court of Appeals for the D.C. Circuit. Chief Judge David Sentelle presided over the ceremony, which took place in Washington, D.C. at the E. Barrett Prettyman United States Courthouse. The presentation included remarks by Supreme Court Justice Samuel Alito, Jr.; Judge Harry Edwards of the U.S. Court of Appeals for the D.C. Circuit; and Christopher DeMuth, distinguished fellow at the Hudson Institute.  Kathryn Tarbert, Heath Tarbert, and James L. Swanson, all former law clerks to Judge Ginsburg, also spoke at the ceremony.
Ginsburg took senior status from the D.C. Circuit in January 2012, allowing him to join the faculty of NYU Law full-time. Having previously heard more than 100 cases annually for 25 years, Ginsburg now teaches courses at the Law School including Corporate Governance and Legislation and the Regulatory State.
The portrait was painted by Simmie Knox, an artist who specializes in oil portraiture. Paintings by Knox have been exhibited at the Museum of African Art and the Corcoran Gallery of Art in Washington, D.C., and he has painted official portraits of figures including President Bill Clinton; Justices Thurgood Marshall and Ruth Bader Ginsburg; and Judges Spottswood Robinson, Judith Rogers, and Harry Edwards.
Posted October 9, 2012