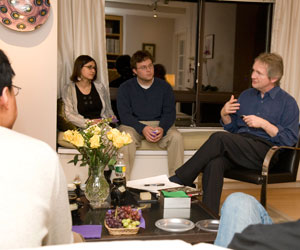 On March 25, David Garland, Arthur T. Vanderbilt Professor of Law and professor of sociology, will be teaching Michel Foucault's The History of Sexuality, Volume 1, examining the philosopher's ideas about social and legal control. It will be the third class in a four-part series on Foucault and the relevance of his philosophy to the law. There will not be a final exam on the material, or even any use of the Socratic method. Garland is teaching these subjects on his own time simply because he likes talking about ideas, and the students, who sometimes find themselves on a waitlist for these popular sessions, are there for the sheer experience of listening to him.
For the past 10 years Garland has conducted informal talks as part of the Faculty in Residence Program, sponsored by the Department of Residence Services, at his own apartment in the Mercer Street Residence; each session is limited to 15 NYU Law students in on-campus housing. Guests socialize while eating pizza and drinking soda before settling down in the living room for the discussion, adjacent to the stunning eastern view from the living room windows.
On a recent February evening, Garland was teaching Foucault's 1975 book Discipline and Punish: The Birth of the Prison to a class of 15. The text prompted observations on the origins of the modern prison and ideas of modern punishment, the formation of the modern individual, different means of justice, and the nature of the soul. "Law is making assessments of what the healthy norm looks like," Garland said in explaining Foucault's ideas, "and how criminal justice can bring people back into line."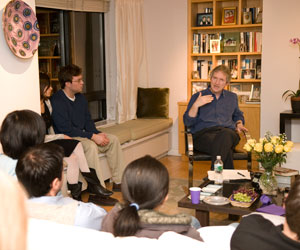 Among the favorite past topics are the history and politics of the American death penalty; race, crime, and punishment; mass imprisonment; and the stances of social theorists Karl Marx, Max Weber, and Emile Durkheim concerning law and legal institutions. "Basically the idea is to make living here less of a 'dorm' experience and more like being in an intellectual community," said Garland, fresh from leading an hour-long discussion.
One of the students at the most recent installment, Ryan Reiffert '11, had also attended the previous session, an introduction to Foucault. He appreciated Garland's events, he said, for their more interdisciplinary nature: "Considering how much of one's time law school tends to take, I really appreciate that Professor Garland's talks are intellectually engaging, and kind of relate to the law, but don't take the form of a typical doctrinal course. It's definitely a positive on the overall law school experience."