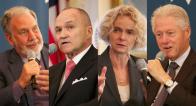 On May 6, NYU Law hosted a Clinton Foundation forum on prescription drug abuse. Former President Bill Clinton, who was promoting the Clinton Health Matters Initiative, joined New York City Police Commissioner and NYU Law alum Raymond Kelly (LL.M. '74), NYU President John Sexton, and National Institute on Drug Abuse Director Nora Volkow for a discussion of how to alleviate prescription drug abuse, particularly among young adults, in New York and nationwide.
In an article about the event, the New York Daily News wrote:
The Clinton Foundation hopes to raise the profile of the issue and work with agencies to improve drug monitoring programs and get universities to join campus initiatives.
"This is insane to have the brightest of our young people dropping out under conditions of which their addiction has not been treated or their abuse is out of ignorance," Clinton said.
Kelly, who served under Clinton as U.S Customs Service commissioner, said prescription drug abuse brings with it violent crime.
Read the full New York Daily News story here.
Posted on May 14, 2013