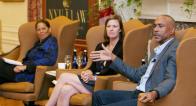 In the wake of recent incidents in Ferguson, Missouri, and elsewhere, NYU Law held a forum on racism, police violence, and community action. The gathering provided an opportunity for students from across the university to participate in an open-ended conversation with Deirdre von Dornum, assistant dean for public service; University Professor Anna Deavere Smith; and Pedro Noguera, Peter L. Agnew Professor of Education at NYU Steinhardt. The wide-ranging and thoughtful discussion considered how we, as a society, grapple with our history, and whether it is possible to bridge deep-rooted divisions within our society, among other questions.
"I felt that it was important for us not to begin this year at NYU without some sort of ceremonial acknowledgment of what just happened," said Deavere Smith, whose work in theater has involved deep explorations of race and politics in America. In her one-woman show Twilight: Los Angeles, set in the aftermath of the 1992 Rodney King verdict, Deavere Smith explored these issues by representing the multitude of voices and perspectives in the case. 
"My goal was really to make less my feeling of strangeness and exclusion by going deliberately to find the people who were not like me and to literally try to insist on being American by becoming American word for word, utterance by utterance," Deaveare Smith said in describing her previous work. "To me it's sad that there will be white people in Ferguson who will not give me an interview. And there's a way in which I can't truly do my work because of the fact that we are so separated, and we have very strong ideas about who can speak for whom." 
"At a law school like NYU, we have a voice that other people don't have. That's why I went to law school," said one 1L in the audience. "As a law school, we pride ourselves on public interest, but I wonder if there's a way for all students to have to think about things like this.... We all have multiple identities—it's not just race, it's gender, it's sexual orientation—so everyone can step into someone else's shoes, but you don't get the chance to, a lot of the time. And I wonder if there's a way for the Law School to use its resources and power to force people to do that."
Professor Paulette Caldwell, speaking from the audience, recalled the 2014 convocation speech given by Sherrilyn Ifill '87, president and director counsel of the NAACP Legal Defense and Education Fund. "The core of what [Ifill] said is that democracy maintenance is the most important thing that lawyers do," said Caldwell. "It's a part of professional responsibility. We should not be talking about some people doing civil rights work, some people doing public interest work—democracy maintenance is what this is all about. And that is the core of a lawyer's professional responsibility. Everybody ought to do some of it."
Noguera also noted that, though it is easy to give in to a sense of despondency when confronted with events such as those in Ferguson, one remedy to that feeling is to join efforts to make change. "If you're involved, then you don't feel demoralized. If all you do is watch this stuff on TV—then wow, you get depressed… but if you actually get involved, you realize there are other people trying to do things," said Noguera. "What we suffer from is [a feeling of] powerlessness."
Another audience member, a 3L, also commented: "What's happening in Ferguson isn't just a lot of people walking around and yelling. It's a very organized protest in response to what happened, and it's getting us talking about these issues. And that's a part of change."
Watch the video of the entire discussion (1 h, 38 min):
Please note that this candid and respectful discussion includes strong language.
Posted September 16, 2014