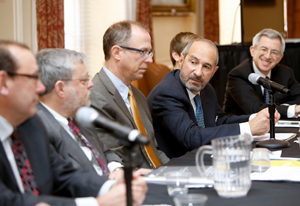 A provocative proposal by Samuel Estreicher, Dwight D. Opperman Professor of Law, to make the third year of law school optional was the subject of a lively public discussion on January 18 at NYU Law that attracted members of the Law School community, the broader legal profession, and the media, as well as New York Chief Judge Jonathan Lippman '68.
New York State now requires those taking the bar exam to have 83 law school credits; Estreicher's proposal, the subject of a New York Times op-ed he co-authored with Daniel Rodriguez, dean of Northwestern University School of Law, would make it 60. Estreicher pointed to two primary reasons for his proposal: students currently face crippling debt that, even if it does not present an outright barrier to entry, limits their career choices after law school; and making optional the third year, often stereotyped as being composed of "filler" classes, creates an incentive for law schools to work harder to meet the practical needs of both students and those students' future clients through skills- and transaction-oriented coursework. He made clear he was not mandating the abolition of a third year, but simply arguing that the two-year option should exist. Many students, he said, would still decide to be 3Ls if his proposal were realized.
Other speakers elaborated on Estreicher's points. Professor Brian Tamanaha of Washington University School of Law shared sobering statistics about the swiftly rising costs of a legal education (double what it was a decade ago), coupled with job numbers reflecting the troubled state of the economy. Speaking after the conclusion of the formal panel, Lippman freely acknowledged the problems Estreicher's proposal aims to address: "I don't think there's any person on a law school faculty or in the profession or on the bench who would say, 'This is so totally out of hand, this is the craziest thing we've ever heard.' This is something that we should be talking about.... Sam's proposal challenges us to take a good, hard look at what we're doing now and where we should be going." Lippman's colleague on the New York State Court of Appeals, Associate Judge Victoria Graffeo, invoked the issue of pre-law school education and the need for more information about the causes of rising tuition. On the other hand, Stephen Gillers '68, Elihu Root Professor of Law, raised concerns about whether bar associations in other states would recognize two-year students from New York, and whether those finishing a three-year J.D. would have an advantage in competing for jobs over those who studied only two years.
Posted on January 22, 2013