For anyone who thinks civil procedure doesn't rock, here's an account written by students in Professor Arthur Miller's class, describing a recent day spent on the subject: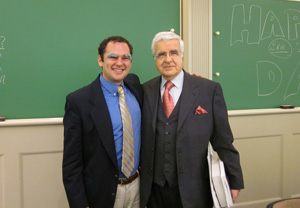 While much of law school is spent reading in the cold recesses of the library, every so often students are given a chance to showcase their creative talent. Every year in Arthur Miller's civil procedure class, this opportunity comes in the form of Erie Day. The tradition originally involved Professor Miller acting out an artistic interpretation of the 1938 Supreme Court case, Erie Railroad Co. v. Tompkins, a monumental procedural ruling growing out of a claim by a man who lost his arm after being struck by a train. Eventually, however, the duty of putting together the annual performance shifted to the students.
This year, the Erie Day performers put together a musical. Erie: A Rock Opera featured classic '80s hits rewritten to encompass the facts, procedural history, and the Court's landmark decision in Erie. The show also included several cameos from characters and comedians referenced by Professor Miller throughout the semester. The breathtaking performance ended in a showstopping rendition of Michael Jackson's "Thriller," appropriately retitled "Miller," in which the entire class joined, singing about the terrors of being called on to recite a case by Professor Miller.
As is custom, the class splurged on gifts to show their appreciation for Professor Miller. This year, the class presented him with a locomotive neck tie, alluding to the train in Erie, a six-pack of Asahi beer, as an homage to a previous case, Asahi Metal Industry Co. v. Superior Court, and a restaurant gift certificate. The performers also signed Tompkins' severed arm used in the performance, which Professor Miller added to his collection of Erie memorabilia. The principal members of the Erie Day cast were Jehiel Baer, Stevie Glaberson,Wes Horner, Elena Lobo, Jamaal Myers, Elijah Ojogho, Erica Rodriguez, Jason Scheff, Paige Spencer, Jordan Wells, and Christine Yurechko, all members of the Class of 2013.
Watch a student recording of Erie: A Rock Opera:

Published November 1, 2010