On April 14, NYU Law defeated Columbia Law in the 10th annual Deans' Cup fundraiser. The final score was 78-67. It was the third year in a row that NYU Law won.
The annual co-ed basketball game, held this year at Coles Recreation Center, is the largest student-run law school event in the country. The 2011 game received almost $40,000 from the sponsors alone, including $7,000 from Schulte Roth & Zabel, the lead sponsor. The proceeds will finance student public interest law organizations at both Columbia Law and NYU Law.
"The Deans' Cup was a big success," said Rachel Weise '12, who was one of the event's coordinators. "It was nice to have it back at Coles, and even nicer to win for the third year in a row! And, as always, we are very grateful to our sponsors who finance a great cause."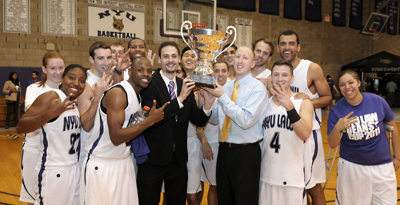 NYU Law's strong offense was led by power forward Joseph Tillman '12, who scored 26 points—10 more points than anyone else on the court that night. "We all worked extremely hard for this win, and we're all happy to see that our efforts paid dividends," said Tillman. "We practiced for two hours every Sunday beginning in January, played a season in the Lawyer's League, and even held extra two-hour practices three days a week during the weeks leading up to the game."
By half-time NYU Law was up 31-20. Then the NYU and Columbia faculty took the court for their annual play-off. NYU Law triumphed 4-2 in the 10-minute game, breaking Columbia's five-year winning streak. NYU Law's team—Anthony Barkow, Tom Clark, Tom Delaney, Irene Dorzback, Roderick Hills Jr., Mary Holland, Michael Livermore '06, Cynthia Estlund, Josh Negreira, and Samuel Rascoff—was ecstatic. "It was a great pleasure and privilege to play in the game and to raise money to support the incredible public service work done by NYU and Columbia law students," said Barkow, executive director of the Center on the Administration of Criminal Law. "It was also nice to bring the trophy back downtown, where it rightfully belongs!"
Starting the second half with an 11-point lead, NYU's defense helped keep that lead by playing tough, making aggressive steals, and creating turnovers. The defense opened the court for the offense's breakaways, three three-pointers by Tillman, and a charismatic dunk by Patrick Ekeruo '13. Columbia's offense scored 47 points in the second half, but it wasn't enough to trump NYU's consistency and tenacity on both sides of the ball.
After the game, with the fans descending onto the court, the cup was presented to NYU Law's two captains, Eli Northrup '11 and Pat Armstrong '11. "It feels amazing to close out my career at NYU with a three-peat in the Deans' Cup game," said Northrup, the co-coordinator of the event. "The team is like a family to me, and I will continue to be a part of this event even after I graduate. It is an incredible event that brings people together to support an important cause, and I'm just happy to have been a part of it during my time at NYU."

Armstrong echoed that sentiment: "I would like to thank all of our teammates, and our two coaches, Jay Rosser and Jon Scheiman, for another great season and a memorable three years. The cup belongs—and should remain—at NYU!"
Photos from the 2011 Deans' Cup
Posted April 19, 2011