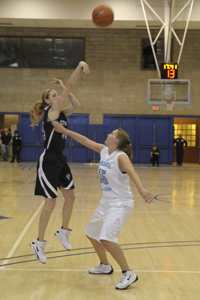 On April 2, in a hard-fought basketball game that came down to the wire, NYU Law students edged out Columbia Law on its home turf, scoring a narrow 56-53 victory. The Deans' Cup, the annual co-ed basketball game played between students at the two law schools, is the largest student-run law school event in the country.
Proceeds from the games support public interest law programs at both schools. This year's law firm sponsors include Dewey & LeBoeuf, Schulte Roth & Zabel, Cahill Gordon & Reindel, Proskauer Rose, and Kaye Scholer. Since it began, the Deans' Cup has raised more than $500,000 for public interest programs.

At halftime, professors from each law school step onto the court for a faculty game. This year, the Columbia Law faculty prevailed, bringing its total number of wins to six since 2002. Since the Deans' Cup began, NYU Law students have won five of the eight games.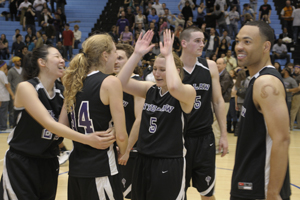 Dean and Lawrence King Professor of Law Richard Revesz said he is thrilled with the spectacular victory and the return of the Deans' Cup to Washington Square. "We are very proud of both our student and faculty teams," he said. "They continue to amaze us with all their talent, energy, and good cheer."