Christopher Sprigman will join NYU Law as a member of the faculty this summer. Sprigman comes to the Law School from the University of Virginia School of Law, where he teaches copyright law, intellectual property law, antitrust law, and competition policy as Class of 1963 Research Professor in Honor of Graham C. Lilly and Peter W. Low.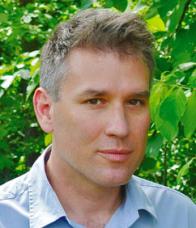 Sprigman's research focuses on how legal rules affect innovation and the deployment of new technologies.  "A highly original and versatile scholar, Chris draws on his vast expertise in copyright law to generate novel solutions to seemingly intractable problems," said Dean Trevor Morrison in an announcement to the Law School community. "His widely-cited work and pioneering studies have had a major influence on important aspects of contemporary copyright law, and often belie the conventional wisdom about intellectual property rights." Sprigman's book, The Knockoff Economy: How Imitation Sparks Innovation, co-authored with Kal Raustiala, analyzes a broad range of fields that innovate in the absence of intellectual property, from fashion to food to football, and makes a provocative argument that copying can actually incentivize innovation.
Sprigman earned a B.A. with honors from the University of Pennsylvania in 1988 and a J.D. with honors in 1993 from the University of Chicago, where he was a comment editor on the University of Chicago Law Review. After graduation, Sprigman clerked for Judge Stephen Reinhardt of the U.S. Court of Appeals for the Ninth Circuit, worked as an associate at Davis Polk & Wardwell, and then clerked for Justice Lourens H. W. Ackermann of the Constitutional Court of South Africa. He also taught at the Law School of the University of Witwatersrand in Johannesburg. After returning to the U.S., he served from 1999 to 2001 as appellate counsel in the Antitrust Division of the U.S. Department of Justice, where he worked on U.S. v. Microsoft, among other matters. He then joined the Washington, D.C. office of King & Spalding, where he was elected a partner. Sprigman left practice in 2003 to become a Residential Fellow at the Center for Internet and Society at Stanford Law School, and joined Virginia's faculty in 2005. He visited NYU Law School during the Spring 2013 semester. 
Posted on June 19, 2013