May 11, 2007
The New York University School of Law's Convocation, "A Celebration in Honor of the Class of 2007," featured a keynote address by Cory Booker, the mayor of Newark, New Jersey, and remarks by Diane C. Yu, chief of staff and deputy to the president of NYU. Students Omer Granit (LL.M. '07), Rayan Houdrouge (LL.M. '07) and Damaris Hernandez '07 took the stage to speak to their fellow graduates about their shared Law School experiences.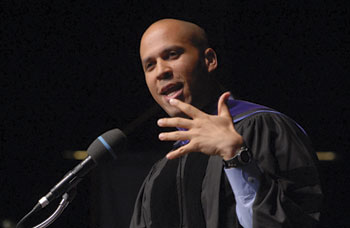 Click on the names that appear below in bold links to see a video or transcript of selected speeches.
Viewing Notes: You need to have RealPlayer 8 (or a newer version) in order to view the video links. After downloading the software, you will need to install it by double-clicking on the downloaded program.
Presiding
Richard L. Revesz
Dean, New York University School of Law
Remarks
Diane C. Yu
Chief of Staff and Deputy to the President, New York University
Voices from the Class of 2007
Damaris Hernandez (J.D. '07)
Omer Granit (LL.M. '07) and Rayan Houdrouge (LL.M. '07)
Address
The Honorable Cory Booker
Mayor of Newark, New Jersey
Presentation of the Class of 2007 Gift to
Lester Pollack '57
Chairman, New York University School of Law Foundation
Moshe Orlin (LL.M. '07)
Jason O. Washington (J.D. '07)
Presentation and Hooding of Candidates
Professor William T. Allen
Professor Claudia Angelos
Professor Derrick Bell
Professor Rochelle C. Dreyfuss
Professor Helen Hershkoff
Professor Samuel Issacharoff
Professor Deborah Malamud
Professor Jill Manny
Professor Deborah H. Schenk (LL.M. '76)
Professor Jerome H. Skolnick
Professor H. David Rosenbloom