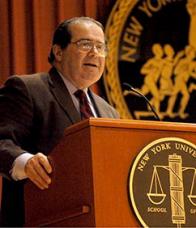 On February 13, Justice Antonin Scalia of the US Supreme Court died at the age of 79. A member of the court since his appointment by President Ronald Reagan in 1986, Justice Scalia had an immense influence on every area of the law.
NYU Law faculty members recount their memories of the justice, pay tribute to his jurisprudence, and consider what comes next for the Supreme Court:
A 2006 letter from Professor Rachel Barkow commemorating the justice's 20th year on the court is excerpted in the New York Observer. "Justice Scalia's jurisprudence...will long outlast his time on the bench," writes Barkow, a former clerk to Justice Scalia.

In

Defining Ideas

, Professor

Richard Epstein

writes about his personal interactions with Justice Scalia prior to Scalia's appointment.

"Scalia was the most influential justice of the past 30 years…. Through his opinions, he exerted gravitational pull on the law, even when he lost," writes Professor

Richard Pildes

in

POLITICO Magazine

.
Posted February 17, 2016