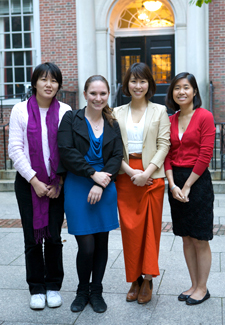 Lauren Burke '09 has an infectious enthusiasm for public service. "There is no greater reward than a woman getting her green card who has lived in the United States in fear and unable to work for 10 or 15 years," she says, describing her work at the New York Asian Women's Center (NYAWC), where she is passing on her zeal to her team of legal interns, NYU law students Christina Chen '13, Dahsong Kim '13, and Wei Zhang '13.
A fluent speaker of Mandarin, Burke received a Skadden Fellowship following her graduation from NYU Law to work at The Door's Legal Services Center, where she advocated for young Chinese immigrants who had been or were at risk for being trafficked. This past July, Burke became the first in-house attorney at the NYAWC, an organization that aims to help women and their children to overcome domestic violence and other forms of abuse.
Burke particularly appreciates the holistic approach that the NYAWC takes towards their clients. In addition to the legal advocacy program spearheaded by Burke, the NYAWC also provides multilingual support programs and shelter services for their clients. "It's great that if one of my clients is having nightmares or thinking about cutting herself, I can refer her to a counselor or case manager here. If they have nowhere to go at night, they have a shelter they can sleep in," Burke says.
For Dahsong Kim '13, this internship at the NYAWC has been an opportunity to develop her interest in working with clients in need. "I love client work; that's where my heart is," says Kim, who originally considered going to school for social work before deciding to pursue her law degree, with a focus on public service. "My favorite part of the job is being able to talk with the clients, telling them the legal options they have, and seeing how happy they get when they realize that there is a choice for them."
In working with Chen, Kim, and Zhang, Burke often draws upon her experiences at NYU Law's clinical program, which she cited as formative in her development as a public advocate. "The training I received about how to work with the client, how to write an affidavit, and how to cross-examine opposing counsel, was just incredible," she says in reference to her involvement in the Children's Rights Clinic with Jacqueline Deane, adjunct professor of clinical law, and the Juvenile Defender Clinic with Randy Hertz, director of NYU Law's clinical and advocacy programs.
Most recently, Burke assigned her interns to read the novel Like Water for Chocolate as part of her emphasis on the importance of presenting a client's story as a narrative, and not merely a list of facts. "Randy Hertz taught me that—the importance of telling a client's story, telling their narrative, and telling it in a compelling way," Burke says. "You can talk about the law until you're blue in the face, but if somebody doesn't take compassion on your client, that's it."
"Lauren does a great job of looking for unconventional solutions to help us become better legal advocates," says Christina Chen '13, who also interned with Burke at The Door before joining the Burke's team of interns at the NYAWC.
All three students are unanimous in their praise of Burke as a supervisor and mentor. Wei Zhang '13 is planning on returning to China after graduation, and to work in corporate law. However, she also hopes to be able to do pro bono work, a desire that she attributes to her experience with Burke. "Even if you're a lawyer for a firm, you still can do pro bono jobs," says Zhang. "I think that my experience with Lauren will affect what I will do in pro bono programs. I think it's really meaningful, and worth the effort. That's something that has changed me a little bit."
Kim also emphasizes the impact that Burke has had on her personal growth: "I've only been with her for two months, and I feel like I've grown so much, not only as a lawyer in training, but also just as a person who wants to be in public service."
Posted November 8, 2011