Criminal defense lawyer Benjamin Brafman (LL.M. '79) has tackled some of the highest-profile cases in recent memory, defending luminaries such as Michael Jackson, Sean Combs, Jay-Z, and Plaxico Burress. More often than not, his untiring efforts result in acquittals. Last year, he defended Dominique Strauss-Kahn, then managing director of the International Monetary Fund, against explosive sexual assault charges that garnered rabid, worldwide media attention. Despite seemingly insurmountable odds, Brafman ultimately saw the Manhattan District Attorney's Office drop the charges against Strauss-Kahn as its case began to unravel.
Brafman spoke about his Strauss-Kahn experiences to an audience of more than 400 members of the NYU School of Law community attending the Law School's Annual Alumni Luncheon at the Pierre Hotel on January 20. During the business portion of the luncheon preceding Brafman's talk, outgoing Law Alumni Association president Emily Campbell '95 introduced the new president-elect, Rocco Andriola '82 (LL.M. '86), who deemed himself "honored" and eager to enter his new role. Campbell received a citation from Vice Dean Jeannie Forrest expressing the Law School's deep appreciation for her service.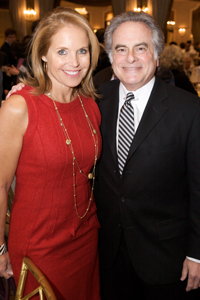 Neil Barofsky '95, former special inspector general of the Troubled Asset Relief Program and current NYU Law senior research scholar/senior fellow, introduced "When the Media and the Criminal Justice System Collide," Brafman's keynote address. "If you get arrested or you get in trouble, there is no better advocate in the world to have on your side than Ben Brafman," Barofsky said. The principal of the Manhattan firm Brafman & Associates, Brafman honed his quick thinking as a standup comic while working his way through college, and then as an assistant district attorney for the very office that would drop the Strauss-Kahn charges decades later.
Criminal charges carry a heavy burden, said Brafman, even with good representation. "We deal with people at their worst, and it's worse than being told you have a terminal illness. Because if you have a terminal illness, there is no humiliation. Your family, your community, your colleagues are supportive. If you get indicted, you get placed under investigation, your name is in the newspaper, you are a pariah."
His professional life, Brafman said, has a very raw human element. "Very often it's the criminal defense lawyer alone who is there for you and who tries to maintain your sanity and tries to be a friend, a counselor, a priest, a rabbi, a brother, because you're alone. I've probably talked more people out of committing suicide in my office than most psychiatrists in the country."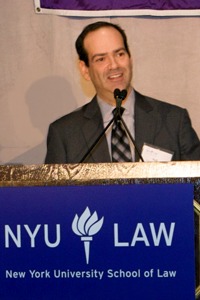 The Strauss-Kahn case landed Brafman and his client on front pages all over the globe. "When I operate, I am on a world stage with no script, dancing as fast as I can," he said. "When I'm right I'm a hero, and when I'm wrong I'm a jerk. And it's the same talent, it's the same skill, it's the same effort. You win, it's good. You lose, someone's life is over. And I mean over.... You have to maintain your focus, and you have to understand that there is really nothing you can say that's going to make this better. There's nothing you can say to stop it. And like a tsunami, you have to hold on very tight to something that's grounded and wait until the wave passes and hope you're still standing."
Such experiences don't leave Brafman feeling bitter toward the press. "I like the media," he said to an audience that included journalists Katie Couric and Jeffrey Toobin, both his invited guests. "I think they do a very important job in an open society because it's often the media that ferrets out the truth.... But the press has a great deal of protection.... If I am a public figure in the crosshairs of a media tsunami, anything you want to say about me is essentially fair game.... You can't try a case or defend a case or try and be successful worrying about a good press day."
Ultimately, Brafman gives the press something, but not enough to imperil his clients: "I become the master of giving a non-substantive sound bite because you can't just ignore 75 people when you walk into a building.... They need that 30 seconds. You need the 30 seconds so that it's not a four-minute sound bite of death for your client."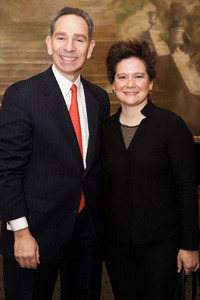 On the other hand, he said, the rapid flow of information through PCs and mobile devices endangers the judicial system's integrity. While he believes firmly in the essential integrity of most juries, Brafman also pointed to the current phenomenon of "Google mistrials," in which jurors go online for outside information about the cases on which they're sitting, resulting in miscarriages of justice.
Courts have failed to keep up with technology, Brafman argued. "It used to be 'Don't read the newspapers or watch television'.... When you have a jury that is so involved technologically in every device that you can possibly imagine... it's almost impossible to protect and ensure the integrity of the environment.... We need to rely on the integrity of the people who agree to serve on jury duty.... When you address this in summation you need to be very passionate and very clear and very convincing, hopefully."
In summarizing his own case to the audience, Brafman acknowledged there was enough blame to go around, using the Strauss-Kahn case, which he characterized as vastly overhyped, as an example. "The priorities of the media have to be carefully looked at... yet it's not the media that's at fault. It's us. We were junkies. We needed to have more and more and more material and information about something that really wasn't—in my opinion, anyway—that interesting."
Posted on January 24, 2012