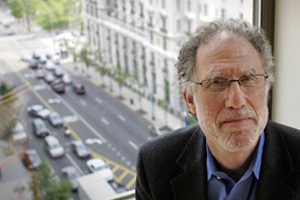 Fresh from serving as general counsel to President Barack Obama's re-election campaign, Robert Bauer will return to the Law School in the spring semester and for the 2013-14 academic year with a half-time appointment as Distinguished Scholar in Residence and Senior Lecturer. Bauer served as White House Counsel from December 2009 to June 2011. He is a partner at the Washington, D.C., office of Perkins Coie, where he will continue his private practice.  Among other representations, Bauer is general counsel to the Democratic National Committee, as well as President Obama's personal lawyer.
Bauer, who will teach a seminar during the spring on the future of political reform, answered a few questions about what he's been doing, and what's to come.
How does the role of general counsel to a presidential campaign now compare to what it was twenty years ago?
The regulatory environment and associated legal challenges have changed completely, and in fact several times and in different ways, over the last two decades.  Presidential campaigns are also vastly larger than before, and more complex in both structure and operation.  In turn, the role of the GC has become more multifaceted and demanding.
Do you view the increasing amount of election-related litigation as a worrisome development?
It depends on what sort of litigation we're talking about. Litigation that comes about as a last-resort response to system failure will always be troubling. But litigation to protect voting rights against fresh challenges is both necessary and salutary.  The courts have a critical role in this work; not all resort to the courts is an unhappy development.
An item in the New Yorker notes you won a dinner bet with Professor Samuel Issacharoff regarding the outcome of a challenge you mounted to early-voting rules in Ohio. Where do you plan to have dinner?
We've been discussing a number of potential locations, and he has been most gracious about it. And I will be reasonable in my demands; not entirely reasonable, but passably so.
When you're not advising the president or the Democratic National Committee, what else do you focus on in your law practice?
Our practice focuses on issues arising out of the different forms of regulation of the political process. We represent, as we have for many years, the congressional campaign committees, as well as the DNC, and our other clients include political organizations, political candidates and officeholders, companies in the high-tech and other industries, tax-exempt organizations engaged in policy advocacy, and individuals looking to advance their public policy or political objectives. In addition, I expect to be devoting considerable time to electoral administration and voting rights issues.
The seminar you'll be teaching at the Law School this spring is titled "After 2012: The State and Future of Political Reform." What will be the focus of the class?
I plan to look at a range of issues that are generally discussed under the heading "political reform" and what change in the coming years, and light of the experience of the last couple of elections, we might expect. The topics covered will include campaign finance, voting rights, lobbying law, public corruption law, redistricting,  and government ethics.
Given all you have on your plate, why add teaching to the mix – and why at NYU Law?
I enjoy the teaching enormously, and I also plan to resume the writing I was able to do before the general election campaign became all-consuming. And I cannot imagine a more stimulating environment than NYU Law in which to do both.  The faculty is simply exceptional.
 Posted on November 28, 2012