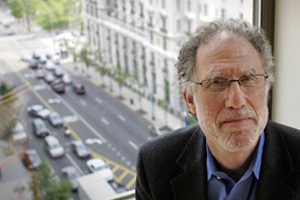 Robert Bauer, top attorney for the Obama campaign and distinguished scholar in residence at NYU Law, will be a co-chair of the bipartisan Presidential Commission on Election Administration alongside top Romney campaign attorney Ben Ginsberg. President Obama announced the formation of the commission in his State of the Union address on Tuesday night. The commission will focus on improving the experience of all voters, addressing the problem of long lines at the polls, and removing voting obstacles for members of the military, overseas voters, voters with disabilities, and voters with limited English proficiency. 
"Defending our freedom is not the job of our military alone. We must all do our part to make sure our God-given rights are protected here at home. That includes our most fundamental right as citizens: the right to vote," Obama said in his speech. "When any Americans—no matter where they live or what their party—are denied that right simply because they can't wait for five, six, seven hours just to cast their ballot, we are betraying our ideals. That's why, tonight, I'm announcing a non-partisan commission to improve the voting experience in America. And I'm asking two long-time experts in the field, who've recently served as the top attorneys for my campaign and for Governor Romney's campaign, to lead it. We can fix this, and we will. The American people demand it. And so does our democracy."
Bauer, who is teaching a seminar at NYU Law this semester on the future of political reform, is a partner at the Washington, D.C. office of Perkins Coie, and is general counsel to the Democratic National Committee as well as President Obama's personal lawyer. As general counsel to the Obama campaign during the 2012 election, Bauer successfully fought to retain early voting in Ohio. Bauer also served as White House counsel from 2009 to 2011.
Last week, NYU Law's Brennan Center for Justice released a three-part proposal for a plan addressing the problem of long lines at the polls. Following the State of the Union, Brennan Center President Michael Waldman '87 released a statement praising Obama's action establishing the commission. "Tonight, the president spoke powerfully of the need to improve the way we run elections in America. He's absolutely right," Waldman said. "His appointment of a new bipartisan commission is an important step, focusing on improving the experience of voters. This should be a critical part of the larger mission of modernizing elections so every eligible citizen can vote and have that vote counted. The moving story of Desiline Victor, told by the president tonight, underscores how vital this mission is. We urge the commission to think boldly, and we urge the Congress to do its part by enacting minimum national standards to modernize elections."
Posted February 13, 2013