The January 24 installment of the Public Interest Law Center's Leaders in Public Interest Series was particularly momentous, serving as the official launch of the Frank J. Guarini Government Scholars Institute. It also doubled as the inaugural Guarini Lecture, delivered by Neil Barofsky '95, special inspector general of the Troubled Assets Relief Program.
Barofsky, the subject of an in-depth cover feature in the 2010 NYU School of Law magazine, became a prominent national figure almost overnight. In late 2008, George W. Bush nominated him to oversee the $700 billion bailout fund with which the government hoped to solve the country's dire economic crisis. The speed of the process echoed the urgency of the financial meltdown. Barofsky, at the time an assistant U.S. attorney for the Southern District of New York, learned of Bush's interest in him, interviewed at the White House and the Treasury Department, and was notified that Bush's recommendation would go forward, all in an eight-day span.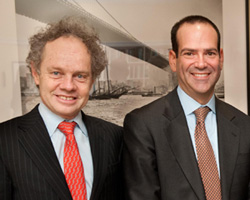 "If anyone had ever told me that President Bush was going to ask me to start up a brand-new law enforcement agency that would only do incredibly sophisticated white-collar cases," Barofsky said, "and that I would be responsible not only for starting it but building it, and I would basically be completely autonomous and not reporting to anyone other than the president, I would have thought they were insane."
With great power comes great criticism. Barofsky displayed a self-deprecating sense of humor as he cited disparaging comments directed toward him from Treasury Secretary Timothy Geithner ("untainted by experience"), New York Times correspondent Floyd Norris ("irresponsible headline hunter"), the Washington Post editorial board ("a supposed defender of the public interest"), and even the White House (characterizing Barofsky as trying to "generate a false controversy…and grab a few cheap headlines") as well as dubious honors (first on the Wall Street Journal's "Who Wall Street Hates the Most" list).
He has dealt with worse. As a narcotics prosecutor with the SDNY, he was once the target of an assassination plot by the Revolutionary Armed Forces of Colombia in the course of investigating and prosecuting 50 of its leaders for drug trafficking. "One of the proudest achievements of my professional career was being able to redefine an organization that was in the process of gaining international legitimacy for what they were," Barofsky said, "which is the most violent, successful drug cartel of all time, responsible for more than 50 percent of the world's cocaine."
Explaining the various functions of his current office—advisory, transparency, auditing, investigatory—Barofsky noted that, to date, it has charged 45 individuals with TARP-related fraud, and has recovered or prevented losses of more than $700 million in bailout funds: "We have a very wide jurisdiction and wide authority to conduct the necessary oversight civilly and criminally and to report to the American people—the taxpayers, the involuntary investors in this program—exactly what's going on with their money."
As a student at NYU Law, Barofsky found inspiration to pursue public service in both a lecture by Professor Bryan Stevenson, on his work defending death row inmates, and Adjunct Professor S. Andrew Schaffer's Criminal Procedure class.
"You can be a little selfish about public interest," Barofsky said. "It's not just about giving back—which is so important—but you can do it because it's something that you love. Because it makes the day go much more quickly. Because you develop professionally as a lawyer in such remarkable ways when you're serving the public."
The Guarini Government Scholars Institute, launched along with the lecture, aims to help NYU Law students build successful government careers in the public service. Supported by Frank J. Guarini '50 (LL.M. '55), who served in the New Jersey legislature before going on to seven terms in the U.S. House of Representatives, the institute gives its student scholars an annual $7,500 award along with individualized counseling and the opportunity to design a special academic program for themselves. A semester-long workshop gives scholars access to a range of thought leaders and practitioners. Professor Samuel Rascoff is the program's faculty director.
Posted on January 26, 2010