University Professor Arthur Miller and Sherrilyn Ifill '87, President and Director-Counsel of the NAACP Legal Defense and Educational Fund, gave testimony on November 5 at the Senate Committee on the Judiciary's Subcommittee on Bankruptcy and the Courts.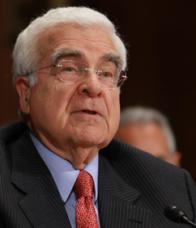 At the hearing, titled "Changing the Rules: Will limiting the scope of civil discovery diminish accountability and leave Americans without access to justice?," Miller spoke on a theme that he is passionate about: the closing of the courts to the American people.  Ifill addressed how proposed rules changes may affect the ability of civil rights plaintiffs to prove their cases. (Watch the webcast of the hearing and read Miller's prepared statement and Ifill's prepared statement.)
"In the past 25 years the pretrial landscape in federal courts has literally been littered with stop signs," said Miller to the subcommittee members. "These stop signs prevent Americans from getting meaningful days in court, they undermine congressional and constitutional policies embedded in our most sacred statues, and they've resulted in the deformation of the federal rules of civil procedure." The U.S. should be proud of its development of social justice over the past 75 years, but our government regulatory system is still "far from perfect," said Miller. "Bernie Madoff proved that. Enron proved that. Diet drugs, Vioxx, and the marketing of the garbage CDOs and other financial instruments that nearly brought our economy to a halt prove that what we need is what we always have had: a satellite system of private litigation to enforce our public policies," said Miller.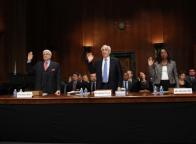 "I believe in our system, I do not want it deformed," Miller said in conclusion. "Congress should pay attention to this back story, because what we have seen are paper cuts perhaps, but death by 1,000 procedural paper cuts is still death to the system as we've known it."
In Ifill's testimony, she emphasized the importance of discovery for the clients of the NAACP Legal Defense and Education Fund. "For those of us who represent civil rights plaintiffs, discovery is the essential stage of any litigation," said Ifill. The nature of civil rights claims means the information that would support a claim of discrimination is often within the possession of the defendant, and the only way attorneys can get that information, according to Ifill, is through the discovery process.
Addressing the subcommittee members, Ifill concluded, "Recognize that this is a moment when we have the opportunity to turn back from what has been an effort to close the door on those who need the litigation system the most."
Posted on November 12, 2013