US Transportation Secretary Anthony Foxx '96 credits the gains of the civil rights movement with opportunities that ultimately led to his cabinet position. In an insightful, personal Frank J. Guarini Government Lecture on March 3, he also described the choices he made in his public service career and offered advice to those who would like to follow his path.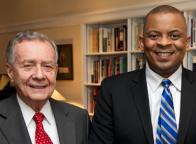 Foxx's origins—he was born to a 19-year-old single African American mother in Charlotte, North Carolina—are not the usual recipe for success. But, he says, he was fortunate to be born in the early 1970s: "In many senses, where we fall in the trajectory of history, what's going on in the legal environment at the time—in my case, the conversation around school integration—really determined the opportunities that I had." The first of his fifth-generation North Carolinian family to attend an integrated school, Foxx took full advantage, going on to Davidson College and then a Root-Tilden Scholarship at NYU Law.
Foxx served in every branch of the federal government—a law clerk at the US Court of Appeals for the Sixth Circuit, a trial attorney in the Justice Department's Civil Rights Division, and a House Judiciary Committee staff counsel—and then had a private practice in as a business litigator before running for a seat on Charlotte's city council. Although some colleagues thought his move to go part-time at his firm was ill-advised, Foxx was drawn to public service.
"Frankly, I didn't grow up wealthy, so I wasn't missing the money," said Foxx. "For me, it was much more important to make an impact." After serving two terms on the council, he launched a mayoral campaign. At 38, Foxx became the youngest mayor in the city's history, and only the second African American to hold that office. He also moved from his firm job to an in-house position.
As Charlotte's mayor, Foxx oversaw two of the largest transportation packages in the city's history, and also worked on behalf of the homeless population; improved environmental quality; sector-based, targeted economic development strategy; and quality-of-life enhancements through land use and transportation assets. He also faced challenges: Charlotte, the second-largest financial services center in the country, suffered disproportionately from the recession. Foxx dealt with the economic challenges by combating directly the "sky is falling" mentality and focusing on incremental achievements in the right direction: "Defining success within the context you're in is really, really important."
He has tackled other daunting economic issues as transportation secretary, such as seeing gas tax revenues decline to the point where the highway trust fund will face insolvency later this year. Foxx is working with a bipartisan group in Congress to find a solution. "You're never going to get the type of results that you would get if you were the sole decision maker," he said in reference to working in public service. "But within ranges of possibility, you can get an awful lot done…. Every day in this job, it's about moving the dial. And if we move the dial for this country and for its people, I feel like we're doing a good job."
In the lecture, hosted by the Public Interest Law Center, Foxx exhorted his audience not to wait for the perfect time to establish public-service roots. "If your dream is to become involved in public service, the only way to achieve that is to get involved in public service," he said, adding, "Be very intentional with your career. You may find points in time when you think a change in direction is necessary. Rather than beat that part of yourself back, listen to it. Because that's how you find your happiness, that's how you find your fulfillment, and that's how you help build a broader legacy."
Posted March 19, 2014