Latinx Rights scholar Astrid Reyes '19 has been awarded the first ever Abby Lyn Gillette Research Assistantship through the Birnbaum Women's Leadership Network (BWLN).
Abby Lyn Gillette, a former assistant dean of academic affairs at NYU Law, passed away on March 31, 2017, after a brief battle with leukemia. The new assistantship was established by her husband, Max E. Greenberg Professor of Contract Law Clayton Gillette, and their son Alex. The assistantship seeks to honor Abby Gillette's commitment to furthering women's leadership in the legal profession by supporting a yearly student project promoting women's success in the law.
"[Abby] was deeply committed to our school and to our students and this is a fitting way to honor her in supporting the law school and women in the law," says BWLN executive director Julie Ehrlich '08, who taught Reyes in the Reproductive Justice Clinic last year.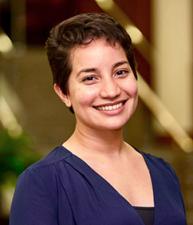 With support from the assistantship, Reyes interned this summer with the Global Legal Program at the Center for Reproductive Rights in New York, where she handled cases from their Latin American-Caribbean office in Bogotá, Colombia. Her work focused on addressing human rights violations that indigenous and marginalized women and girls in the area suffer, including obstetric violence and forced sterilization in indigenous communities. She will stay on as a volunteer with the Global Legal Program in the Fall semester.
"I feel incredibly honored to be the inaugural research assistant," Reyes said, "I take a lot of pride in believing that I come from a long line of strong women, so to be part of this new fellowship program is, to me, a continuation of this lineage, and provides me with more incredible women to emulate and hold as an example and inspiration."
BWLN, founded in 2017 and co-chaired by Florencia Marotta-Wurgler '01 and Melissa Murray, seeks to develop women's leadership skills and advance women in the legal profession. In September, BWLN will be accepting applications to the Women's Leadership Fellows Program, which further seeks to provide mentorship, experiential learning, and individualized support to a small pool of law school fellows.
Posted August 17, 2018