Annual Survey of American Law pays tribute to Arthur Miller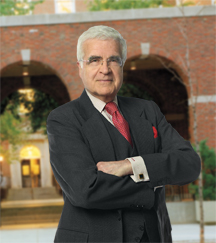 At an April 14 ceremony, Arthur R. Miller joined a long line of distinguished jurists who have been honored by the Annual Survey of American Law. Each volume of the student-edited journal is dedicated to an individual who has made an outstanding contribution to American law. Examples of prior dedicatees include Thurgood Marshall, Martin Lipton '55, Hillary Rodham Clinton, Antonin Scalia, and Stephen Breyer.
Miller is a singular figure in American law and culture. He is renowned, as both a scholar and a practitioner, for his expertise in civil procedure, complex litigation, copyright law, and the law of privacy. He is the author of more than 40 books, among them a casebook on civil procedure used at virtually every U.S. law school and the treatise Federal Practice and Procedure, widely regarded as the foremost authority on its subject. At the same time, he has long played a highly visible role explaining and interpreting law for the general public. He served, for example, as legal editor of Good Morning America, on ABC; host of his own show, Miller's Law, on Court TV; and a moderator on numerous shows for public television.  In 2007, after 35 years at Harvard Law School, Miller joined the faculty of NYU Law as a University Professor, a distinguished position reserved for those whose work encompasses multiple disciplines. Along with his academic duties, Miller serves as Special Counsel to the class-action law firm Milberg LLP, and heads the firm's appellate practice.
This year's Annual Survey dedication got off to an atypical start, with a screening of a South Park-like animated parody, titled "What Would Arthur Miller Do?" Opening remarks were then delivered by Dean Richard Revesz and Danielle Kantor, editor-in-chief of the Annual Survey. Luminaries from the worlds of law and media then offered tributes to Miller. Those speaking were: Justice Ruth Bader Ginsburg of the Supreme Court; John Sexton, president of NYU and dean emeritus of the Law School; Brad Friedman, a partner at the Milberg law firm; Judge Robert Sack, of the U.S. Court of Appeals for the Second Circuit; Henry Gutman, a partner at Simpson Thacher & Bartlett; Charles Gibson, former anchor of ABC's Good Morning America and World News: David Shapiro, the William Nelson Cromwell Professor of Law Emeritus at Harvard Law School, and a resident faculty member at NYU Law; Jeffrey Toobin, legal analyst for CNN Worldwide and The New Yorker; and Linda Silberman, Martin Lipton Professor of Law.
In her remarks, Justice Ginsburg, who met Miller when they were both on the Harvard Law Review, said, "In classrooms and courts, in the print and broadcast media, Arthur Miller has graced the stages of our profession with enormous intelligence and inimitable style." She called him a "grand master of the art of law teaching." Sexton, who was Miller's student at Harvard, said, "Arthur's class literally changed my life, and changed it not in only the professional dimension, but in the most personal of ways." Silberman noted that, some years after she was Miller's student and research assistant at the University of Michigan, she introduced him to 19th century Japanese woodblock prints. He became such an avid collector of the work of Utagawa Kuniyoshi, that he recently donated more than 1,800 of the artist's works to the British Museum. An exhibit from that collection is now on display at the Japan Society in New York. Silberman said she was pleased she could open a door for Miller, since he, as her teacher in the field she would pursue, had opened such an important one for her.
Video
Watch the full event (2 hrs):

Posted April 16, 2010