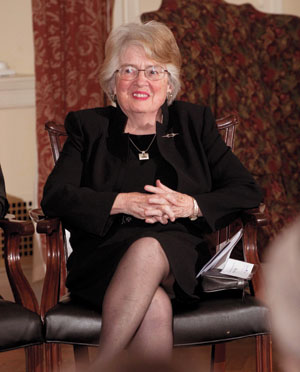 In the summer of 1948, before entering Yale Law School with the intent of becoming a labor attorney, Patricia McGowan hit the bricks with her uncle and grandfather—in picket-line solidarity with a United Auto Workers strike for better wages at the ball bearing factory in gritty Torrington, Connecticut, where she worked as a "greaser."

This was before McGowan earned her juris doctorate, married Washington lawyer Robert Wald, and, much to the consternation of extremists in Congress who labeled her an "instrument of the devil," became the Honorable Patricia M. Wald—former chief judge of the U.S. Court of Appeals for the District of Columbia Circuit; former associate judge for the International Criminal Tribunal for the Former Yugoslavia; mother of five, grandmother of ten; and, in frigid Iowa during the presidential caucus season of January 2008, a heavily-bundled, snow-booted, 79-year-old canvasser going door-to-door in the cause of Barack Obama.
For her numerous noble accomplishments, as well as a persistent good humor, Volume Sixty-Six of the New York University Annual Survey of American Law was dedicated on March 12 to Judge Wald. At a ceremony in Vanderbilt Hall, she was properly lauded by the Honorable Harry T. Edwards of the D.C. Circuit, a visiting professor at NYU Law, and former clerks Cynthia Estlund and Nancy Morawetz, both now on the NYU Law faculty.
Morawetz cited her mentor as a "role model for women clerks," on and off the judicial clock. Estlund praised the one-time Connecticut factory hand for her "refusal to lose sight of the concerns of ordinary people" affected by broad theories of law settled in appellate decisions. Judge Edwards recollected circuit bench conferences when, "You always want to hear what Judge Wald has to say because she clears your head and improves your understanding, and maybe she'll be funny as well."
On one point they all agreed: Judge Wald has had an inspired and inspiring career.