Annual Survey of American Law honors Cass Sunstein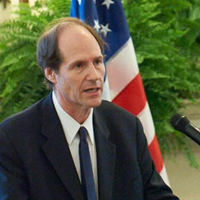 The Annual Survey of American Law dedicated its 68th volume to Cass Sunstein at an April 4 ceremony. Each year the student-edited journal honors a preeminent scholar, jurist, or legal practitioner. Sunstein is far and away the nation's most prolific and widely cited legal academic. Prior to assuming his current position as administrator of the Office of Information and Regulatory Affairs (OIRA), which is part of the Office of Management and Budget, he was a professor at Harvard Law School. His "contributions to the development and understanding of American law are second to none," said Annual Survey of American Law Editor-in-Chief Darryl Stein '11 at the dedication ceremony. While Sunstein's scholarship has ranged broadly, a major focus has been on administrative law and cost-benefit analysis, and that is his principal preoccupation as head of OIRA. OIRA, which exercises broad oversight over the federal regulatory process, "is a hugely significant office that many people in the country don't know much about," noted Dean Richard Revesz in introductory remarks at the dedication. "I don't think anyone has been as prepared for this job as Cass."
The dedication ceremony featured tributes to Sunstein from people whose lives have intersected his in a variety of ways: Sally Katzen, a visiting professor at NYU Law and OIRA administrator from 1993 to 1998; C. Boyden Gray, an adjunct professor and former White House counsel, who met Sunstein when he worked in the Department of Justice's Office of Legal Counsel; Sudler Family Professor of Constitutional Law Richard Pildes, who co-authored an article with Sunstein about cost-benefit analysis and the regulatory state; Georgetown Law Professor Lisa Heinzerling, who was Sunstein's student at the University of Chicago Law School; and University Professor and John Edward Sexton Professor of Law Richard Stewart, who was Sunstein's professor at Harvard Law.
In his own remarks, Sunstein outlined some changes he has overseen at OIRA. Then he pulled back to address a broader theme: the value of work done by people who primarily study and advance ideas about the law versus that done by those who practice it. Both of course matter, he said, but for his audience consisting primarily of faculty and students, he wanted to emphasize the value of the former. "What you do . . . really matters," Sunstein said. "People will pick it up, people will listen to it, and it will feed into a kind of river that is an intellectual tradition that matters and affects lives."
Posted April 8, 2011.
-