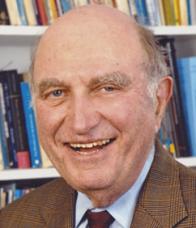 On June 8, the American Civil Liberties Union (ACLU) presented the inaugural Dorsen Presidential Prize to Georgetown University Law Center Professor David Cole. The $10,000 prize, which is only the second award established by the ACLU, is named for Norman Dorsen, Frederick I. and Grace A. Stokes Professor of Law, and will be awarded on a biennial basis to a full-time academic for "outstanding lifetime contributions to civil liberties."
Dorsen was the president of the ACLU from 1976-1991. Prior to his presidency, Dorsen served as general counsel to the ACLU, and argued Supreme Court cases including those that won for juveniles the right to due process, upheld constitutional rights of out-of-wedlock children, and advanced abortion rights. In addition to his work with the ACLU, Dorsen was also the founding president of the Society of American Law Teachers, as well as the founding president of the U.S. Association of Constitutional Law. Dorsen is currently the co-director of NYU Law's Arthur Garfield Hays Civil Liberties Program, and he was the founding director of NYU's Hauser Global Law School Program.
"Norman Dorsen has been unflinching in his determination to protect the civil liberties of all Americans in all circumstances, no matter what the popular stance at a given time," said ACLU Executive Director Anthony Romero in a press release from the ACLU about the award. "This award was designed to honor his resolve and to reward and encourage those who share his commitment to protecting the freedoms guaranteed in our Constitution."
"It is a great honor to have my name on this award," said Dorsen in the press release. "What excites me most is that there is an ongoing determination, by the ACLU and by academics and lawyers throughout the country, to confront discrimination and other injustices that threaten our rights as provided in the Constitution."
Posted on June 17, 2013