This Thursday and Friday, more than 4,700 students from 21 law schools are expected to flock to NYU School of Law for the 38th annual Public Interest Legal Career Fair, the largest event of its kind in the nation.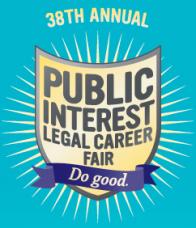 At the fair, organized by the Public Interest Law Center, attendees will participate in interviews and table talks with more than 233 public interest and government employers from 16 states and the District of Columbia seeking summer and full-time employees. NYU Law alumni frequently return to campus as employers seeking potential hires, and students often receive job offers.
Students can also benefit from discussion and networking opportunities during two lunches. On Thursday, Alliance for Justice will screen the 20-minute film Lost in the Fine Print and guide a discussion on forced arbitration clauses. On Friday, students seeking employment on the west coast can meet with representatives from the Northern and Southern California public interest law markets.
Law schools participating in the two-day event include Yale Law School, Columbia Law School, Cornell Law School, Fordham University School of Law, Benjamin N. Cardozo School of Law, Brooklyn Law School, and more.
Posted February 3, 2015