The Public Interest Law Center (PILC) held its 37th annual Public Interest Legal Career Fair on Thursday, February 6 and Friday, February 7.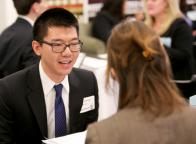 At the annual fair, law students can seek out opportunities for summer jobs, permanent positions, and additional career information.
Each year, the fair draws students from 21 law schools, including NYU School of Law, Yale Law School, Columbia Law School, and Cornell Law School. Last year, despite the approach of Winter Storm Nemo, the fair drew a crowd of thousands. This year, narrowly avoiding yet another snowstorm, 1,600 law students attended and met with 670 representatives from 213 public interest organizations. These employers have the chance to choose from among truly stand-out candidates pursuing public interest law.
NYU Law students alone participated in over 730 interviews with employers. These included such notable organizations as the US Department of Justice, the Alaska Department of Law, and Orleans Public Defenders.
Posted February 11, 2014