A vertical garden of ornamental grasses, ferns, flowering perennials, and evergreen groundcovers now graces the wall of one of the University's greenest buildings, 22 Washington Square North (22WSN). The building, which was awarded a Leadership in Energy and Environmental Design (LEED) silver certification from the U.S. Green Building Council in July, is home to the Law School's Straus Institute, Tikvah Center for Law & Jewish Civilization and the Jean Monnet Center for International & Regional Economic Law & Justice.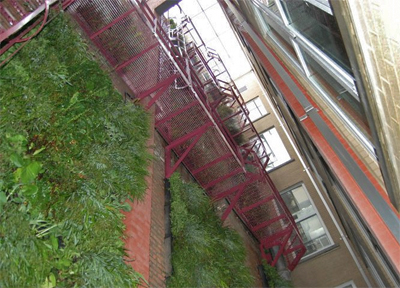 The plant-covered wall, awash in texture and color, is set in a small outdoor courtyard, but meant to be enjoyed from inside; interior offices of the five-story building overlook the vegetation and a glass elevator now boasts a garden view. The wall helps clean outside air of pollutants, offsets the carbon footprint of people and fuel emissions, acts as a sound proofing, and provides a natural filter for water that flows through it. "The wall at NYU integrates architecture with nature and creates sustainable building solutions and living artwork," said Sabrina Altair Buttitta, a designer with Plant Connection, the firm in charge of the ambitious project.
The firm that designed 22WSN, Morris Adjmi Architects, also designed Wilf Hall, the Law School's newest building. Wilf is currently being considered for LEED platinum certification – the highest level award.
Posted August 29, 2011