On May 23, the Class of 2019 gathered with their families and friends at the Hulu Theater at Madison Square Garden to celebrate the completion of their Law School degrees.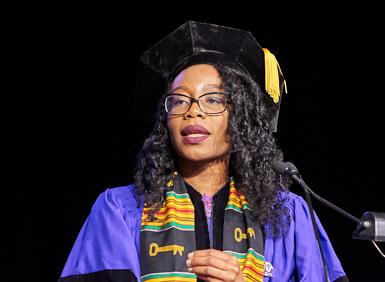 This year's NYU Law Convocation speakers included Congressman Hakeem Jeffries '97, who spoke at the morning JD ceremony, and Ana Palacio, former Spanish minister of foreign affairs, who addressed students graduating with LLM, JSD, MSCRS, and MSL degrees in the afternoon. Both speakers emphasized the importance of lawyers in shaping the rule of law and showing leadership through times of conflict and adversity. The graduating students also heard from their peers, Tasleemah "Tolu" Lawal '19 and Ngozi Nwanta LLM '19. 
When some members of the Class of 2019 were asked to reflect on their time at the Law School, their answers covered a wide range of experiences. Juan Pablo Perrino LLM '19 said that some of his fondest memories come from his first weeks as a law student: "I started meeting people from around the world, with different stories." For Deepa Devanathan '19, one highlight was arguing before the Wisconsin Supreme Court during her 2L year as part of Moot Court. Laura Sorice '19, former co-chair of Law Women, recalled working with the administration to plan the first event of the Birnbaum Women's Leadership Network, and having the chance to a moderate a panel of alumnae at the launch.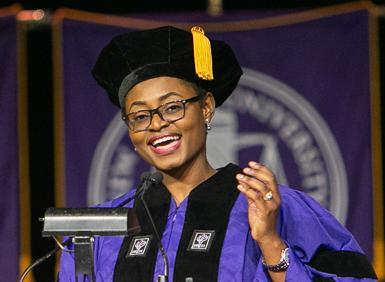 "It was a great moment of community, and that is something I definitely want to remember after graduation," she said. 
Other graduating students mentioned the faculty members from whom they learned the law. "Professors Jeanne Fromer, Scott Hemphill, and [John M. Desmerais Professor of Intellectual Property Law] Barton Beebe were especially kind to me, and made me feel at ease," said Tim Keegan '19. "[They are] really nice people, in addition to being great professors and good mentors." For Noah Stern '19, studying with Bonnie and Richard Reiss Professor of Constitutional Law Samuel Issacharoff, first in Procedure during his 1L year, then in Complex Litigation, "made a really, really deep impression on me as a student." 
Taking Criminal Law as a 1L with Professor of Clinical Law Kim Taylor-Thompson was an "incredible experience," said Renata O'Donnell '19, calling Taylor-Thompson "a wonderful professor and warm person." O'Donnell also cited Vice Dean Randy Hertz's Juvenile Defense Clinic: "Working with clients but also learning from him about public defense was just next-level."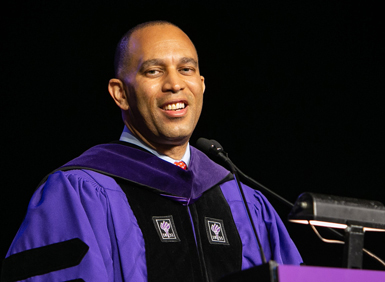 Her views were echoed by morning ceremony speaker Jeffries, who gave a shout-out to his own experience studying with Hertz and Taylor-Thompson: "That's like taking a class with Captain America and Captain Marvel together!"
Jeffries' theme was "a knockdown is better than a knockout," and he encouraged the graduating class to persevere even in moments of adversity. "I'm optimistic here today, when I look out at brilliant, young, incredibly aspirational lawyers, about to contribute in magnificent ways to the tapestry of the legal profession," he said. "It's because of folks like you that America has always been able to deal with whatever adversity we were confronted with." 
Palacio spoke at the afternoon ceremony about the importance of using their legal skills to fight for the rule of law in a changing and unstable world: "There will certainly be setbacks, solutions will be imperfect, prototypes will not succeed, problems will arise, but you will be there to shape how we move forward in this mutating world," Palacio said. "You are our best hope for a better, more certain future. You have the tools. Just do not give up trying." 
This year's graduating JD class began their journeys at NYU Law in the Fall of 2016. In his remarks to the JD Class of 2019, Dean Trevor Morrison noted that the nation, the world, and the rule of law were in dramatically different states when this class was accepted to the Law School: Merrick Garland was the nominee to the US Supreme Court to fill a vacancy left by the death of Justice Antonin Scalia; the Court had recently reaffirmed its decision in Roe v. Wade; and UK citizens had only just voted for Brexit.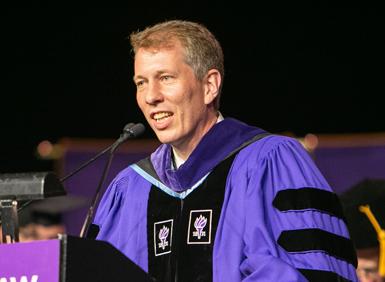 "As you become lawyers, inheriting both the potential and the limitations of the law, you also inherit a somewhat unfamiliar world, one that is changing rapidly in ways you might not have anticipated when you began your studies," Morrison said. "We face concerns, at home and abroad, about the nature of longstanding institutions and the fragility of the rule of law." 
Morrison encouraged all of the Law School's new graduates to consider the significance of the role of lawyers in responding to a changing world: "In some form, change is inevitable. The variables lie in how that change will happen and what its content will be," he said. "Whatever comes, lawyers will be at the center of charting and managing the change. Starting today, that means you." 
Posted May 31, 2019